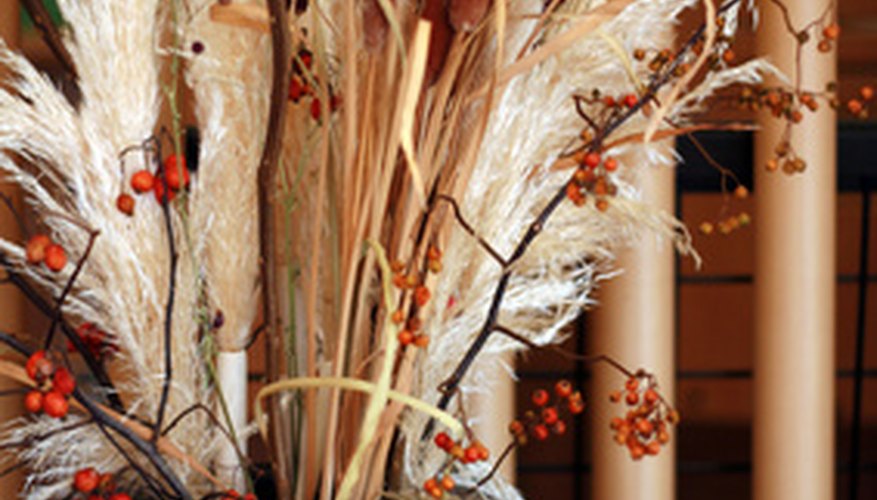 pot of dried plants image by Craig Hanson from Fotolia.com
Dried flower arrangements and wreaths can be a tasteful addition to your home's decor. Professional florists can assist you in creating the perfect arrangement, or you can try your own hand at flower arranging to create a piece for your home. Although dried flowers can be a good alternative to the expense of frequently having to replace fresh flowers, remember that they aren't intended to be permanent. A good dried floral arrangement should last between three and five years if properly maintained.
Take any dried flower arrangements in need of dusting or cleaning and place them outdoors on a table or other solid surface. It's best to clean dried flowers outdoors to prevent the dust build-up from simply being relocated to another part of your home.
Plug in your hair dryer close enough to where you have set your dried flowers so that you will be able to easily reach them.
Hold the hair dryer in your hand about 10 inches from the flowers.
Turn the hair dryer on the lowest setting and direct the air toward the plant, which will blow off any of the dust that has accumulated. You may need to use your free hand to gently move the dried plant's stems and flowers to be sure all the dust and dirt is removed.
Repeat steps 3 and 4 with your remaining dried flower arrangements.
Tips
If it is too cold to clean your flowers outdoors or if it otherwise isn't possible to take the flowers outside, you can place the arrangement in a large plastic bag or a box to contain the dust.

If you don't have a hair dryer handy, you can also use a duster made with real feathers to sweep away the dust that has built up on your flowers. Canned air that is often used for cleaning keyboards can also be used.

Other tips for preserving your dried flowers include keeping them away from heat, humidity and moisture. It's best not to hang wreaths made from dried flowers on an outside door because it could become damaged by the heat, sunlight, wind and rain.
References