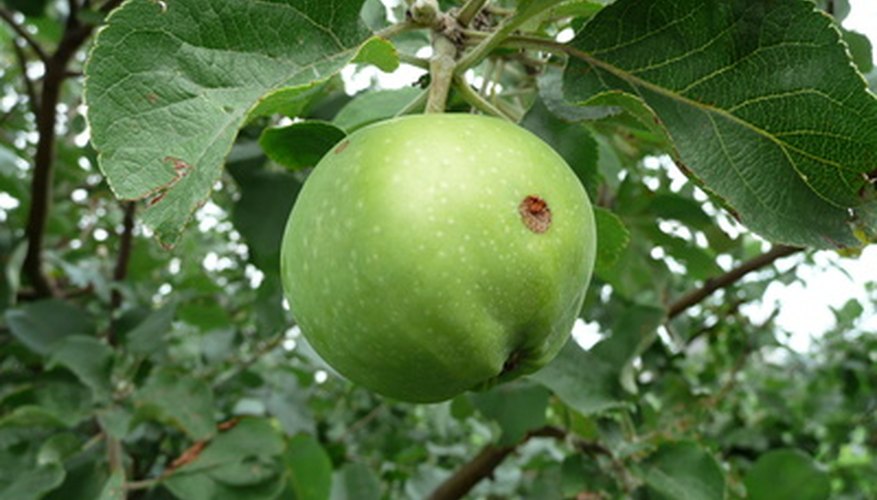 Fruit trees can grow well in Michigan despite the state's northern location. The state's soil Is largely sandy with glacial till mixed in, and the climate of Michigan is characterized by cold, harsh winters and short, mild summers. The state falls between USDA hardiness zones 3 and 6. If you are growing fruit in Michigan, select cold-hardy trees that do not blossom early.
Plant trees in areas with full sun and well-drained soil. Most fruit trees grow well in Michigan's well-drained soil.
Plant trees in early spring once the ground thaws and drains. The soil should not come up in clumps that stick to the shovel.
Dig a hole for the tree that is twice as wide as the root ball, but no deeper, using the shovel. Place the root ball in the hole and fill in around the tree with soil. Water the tree to remove all air pockets.
Mulch around the tree to help hold in water at the roots and prevent grass from stealing valuable nutrients. Do not let mulch mound up around the trunk of the tree. This will promote disease in the tree.
Apply 1 cup of a granulated (10-10-10) nitrogen fertilizer in a ring around the tree in spring. Do not fertilize after June. Doing so can promote late-season growth that can die in Michigan's harsh winters.
Prune trees in spring while the trees are still dormant, using pruning shears and branch loppers. Remove only crossing branches, dead or diseased limbs and sprouts below the tree's graft line.
Things You Will Need
Shovel

Mulch

Nitrogen-rich granulated fertilizer (10-0-0)

Pruning shears

Branch loppers
Tip
Select locally-grown tree cultivators that are adapted to your climate. Locally-grown cultivators will be well-adapted to harsh Michigan winters and early spring frosts.