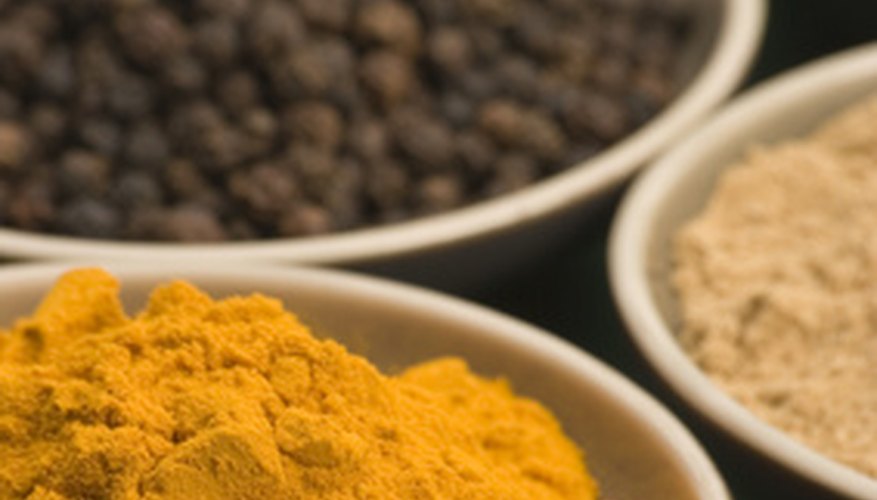 Turmeric is a flowering perennial plant with a rhizome root system. In its native India, it is used heavily in many traditional dishes. The ground root powder has an orange-yellow color that is imparted into the food it is used in. Turmeric also has a long history of medicinal use in India and increasingly in the United States. Turmeric grows best in warm, damp climates, but gardeners in USDA zones 8 to 11 should have no trouble growing this herb outside. For the cool-climate gardener, pot up your turmeric roots, and keep them inside for the colder months.
Planting Outside in the Ground
Dig up your planting bed and add rich, well-rotted compost or aged cow manure. If your soil is heavy and claylike, dig in coarse sand and peat moss until the soil is loose and well draining.
Build up mounds of soil that are 12 inches high. Dig holes that are 5 inches deep and 12 to 15 inches apart along the length of the mound.
Break up your fresh turmeric rhizomes where they finger off from the main stem.
Lay one finger into each hole and cover it with soil. Pat down the soil and water the area until the mounds are evenly damp all the way through.
Water your turmeric crop every three to five days. In very dry weather, water as much as needed to keep the soil damp but not saturated.
Planting Inside in a Pot
Mix equal parts peat moss, rich compost and coarse sand.
Fill a pot half full with the potting soil mix.
Break up your turmeric root by separating the fingers off from the main rhizome.
Lay one turmeric rhizome finger in each pot and cover it with soil. Water the pot until it is thoroughly damp.
Place a clear plastic bag upside down over the pot. Fasten the opening around the rim of the pot using a rubber band or large twist tie.
Place the pot in an area where it will get plenty of indirect sunlight. Keep the soil temperature above 68 degrees. Keep the soil damp but not saturated.
When the shoots emerge after three to four weeks, remove the plastic bag. Keep the soil damp and place the pot in a sunny window or on a covered porch.