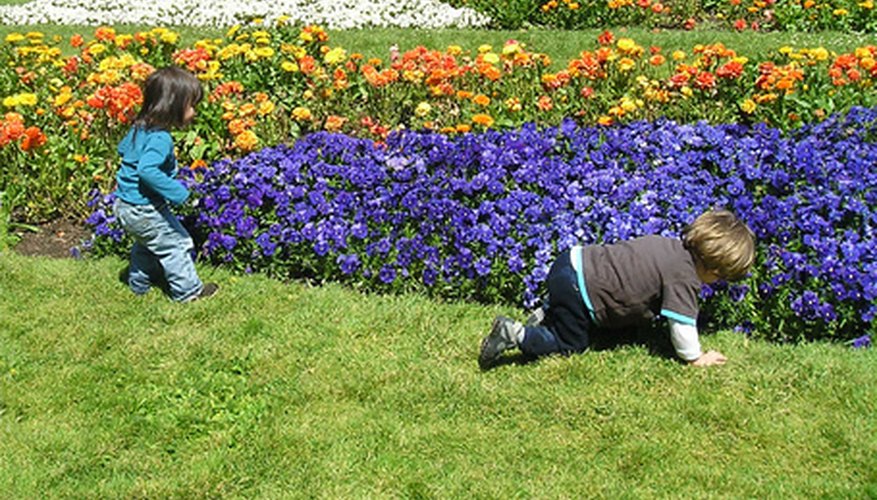 While a properly planned flower garden will have plants that bloom at different times throughout the growing season, it's nice to have a few varieties that will stay in bloom and serve as the backbone of the flower garden design throughout the season. Most annual flowers will bloom in the spring, and with proper care--and barring extreme heat and drought--give scent and color from spring through summer. Many perennials can be found to do the same.
Bachelor's Buttons
Bachelor's buttons are quick growers and offer early blooms of white and pink. Varieties are also available in deep purple and blue. The bachelor's buttons can be planted early as the seed does well when allowed to germinate in cooler temperatures. Many bachelor's buttons will continue to bloom until autumn frost. Besides adding color to the garden, bachelors buttons make a good cut flower for an indoor bouquet.
Candytuft
Candytuft is available as a perennial or an annual. The perennial is a shrub-like plant, with white flowers that will sometimes appear even before the spring bulb flowers begin to show. They grow easily in any garden spot except deep shade. The annual candytuft is available in a wider range of colors, including pink, white, violet, red and lilac. When planting from seed, the candytuft will germinate in about 20 days. Candytuft is resistant to diseases and pests.
Zinnia
The popular zinnia is an annual available in every color except blue, making it an ideal medium tall plant to keep the garden colorful from spring through fall. The flowers can grow from 1 to 4 inches in diameter, and the blossoms make good, long-lasting cut flowers for those wishing to bring the beauty of the garden indoors. Zinnias thrive in well drained soil in full sun, but they like plenty of moisture. Deadhead spent flowers to keep the plants blooming.
Hibiscus
The hibiscus, or Rose of China, can bloom all year round in warm climates, but will bloom throughout the growing season in most gardens. It can easily be transplanted to a container and brought inside when the temperatures start to drop in cooler areas. The large blossom of the plant can be a distinctive addition to any garden. Usually growing to a height of between 12 to 18 inches, some varieties have been known to reach 5 feet if not cut back.
Resources