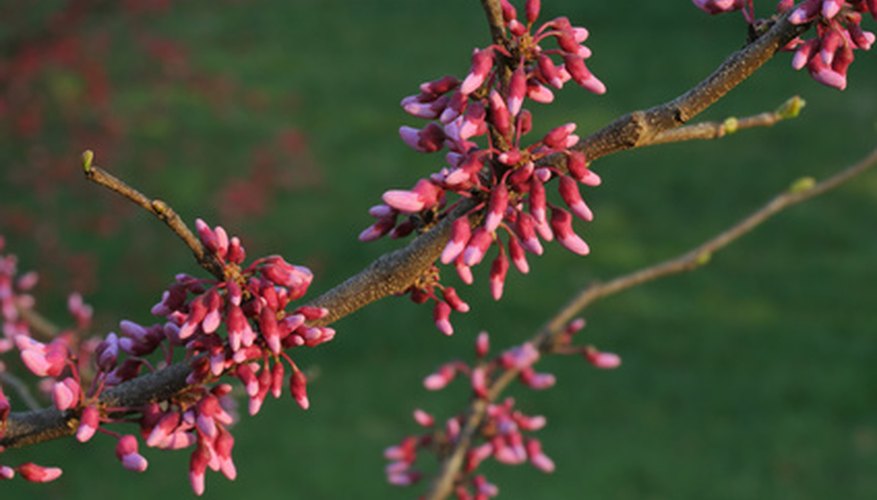 Chinese redbud trees are distinguished from other types of redbud tree by their by their numerous, pinkish-lavender flowers. The Chinese redbud produces flowers in the early spring. Chinese redbuds grow best in United States Department of Agriculture (USDA) Hardiness Zones 4 through 10. Chinese redbud trees grow to 20 feet with a spread of 15 feet in diameter. The branches of these trees often curve gracefully downward and flower in the spring before growing leaves, resulting in curved branches covered with flowers. Chinese redbuds grow between 12 and 18 inches per year.
Select a location that gets partial to full sun. Chinese redbuds grow best with adequate light. The soil in the location should range from some sand to mostly clay, but should drain well.
Remove your nursery stock Chinese redbud from its nursery pot. You may need to loosen the pot from the sides of the root ball with a shovel.
Shake off excess soil from the roots so you can see the overall size of the root ball. If the soil is packed tightly in the root ball, do not worry about removing it.
Dig a hole slightly larger and deeper than the tree's root ball.
Break up the soil if it is heavy clay. Use a shovel or hoe to break the soil up to clumps no larger than a pea.
Place the tree in the hole and spread some of the soil loosely over the roots. Use enough soil to hold the tree loosely in place.
Place soil under the roots by using your hands. This soil will support the tree and help prevent air pockets that could cause the soil to settle too much.
Fill the hole with the soil you previously removed from the hole.
Water your newly planted tree thoroughly.
Things You Will Need
Shovel

Hoe

Nursery stock Chinese redbud