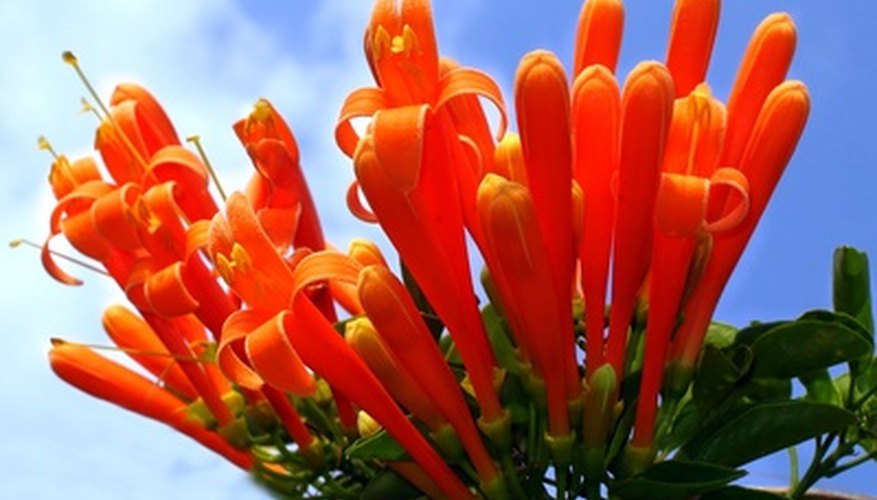 Found growing in British Columbia south to California, orange-flowered honeysuckle (Lonicera ciliosa) is a twining honeysuckle vine variety with narrow, orange trumpet-shaped flowers. Growing 10 to 30 feet high, orange-flowered honeysuckle blooms in late spring into summer. The orange to red, narrow and sweetly scented flowers light up the garden with their bright colors and attract butterflies and hummingbirds. The oval-shaped leaves on orange-flowered honeysuckle grow in clusters of one to two. Orange-flowered honeysuckle requires full sun to part shade. The USDA hardiness zone is 5.
Prune an overgrown orange-flowered honeysuckle vine in later winter, during its dormant season. Cut off 1/3 to 1/2 of the upper branches to help eliminate overgrowth but still ensure production of flowers in summer.
Remove all spent or dead blooms, as soon as they are visible, with sharp pruning shears. Cut back the bloom to the base of the bud to encourage a prolonged flowering season and to send needed nutrients to the rest of the vine.
Cut back all tangled and gnarled stems to allow light into other areas of the vine and to keep the plant looking tidy and not overgrown.
Remove dead or damaged branches by clipping the branch off at the intersection of the main stem. Shear off lateral branches that stray away from the main portion of the vine to keep the vine looking neat.
Remove all sucker shoots or shoots arising from the base of the vine by removing the entire root base.