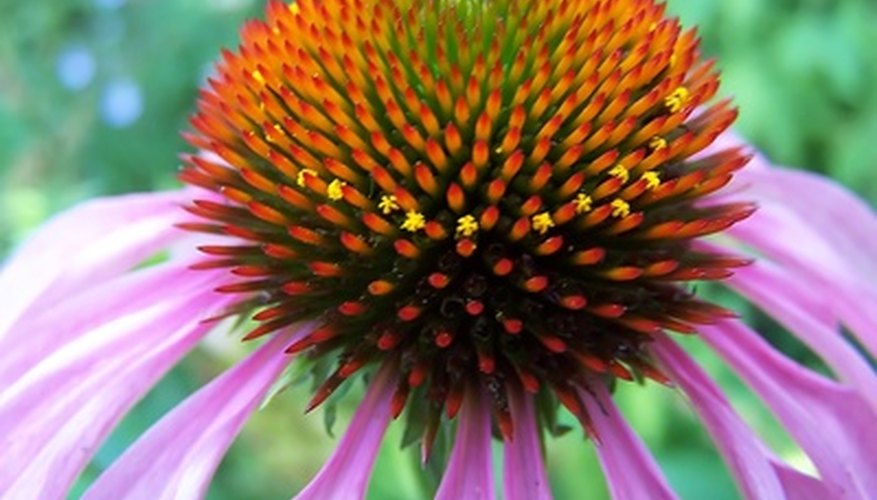 Canada's eastern province of Ontario extends from as far south as Windsor, across the Saint Lawrence Seaway from Detroit, Michigan, and north to the frozen reaches of the Hudson Bay. Many Canadian garden plants grow wild in Ontario's vast expanses. Look for those adapted to your Ontario garden's conditions. They will reward you, says the Canadian Museum of Nature, with low-maintenance, reliable pest and disease-resistant performance. They will also feed and shelter the local wildlife.
Pale Purple Coneflower
Pale purple coneflower (Echinacea pallida) is Ontario's only native echinacea. This perennial, 2-to-4-foot high member of the aster family grows wild in Ontarios' pine woods and across the provincial prairies. Its sturdy stems rise from a base of lance-shaped green leaves, bearing palest pink to rose flowers between May and July. Recognizable for their large, golden-brown, cone-shaped centers, pale purple coneflowers mix effectively with native ornamental grasses, says the Lady Bird Johnson Wildflower Center. Plant them in dry to moist, rich, acidic or limestone-based soil and full sun. Expect bees and butterflies to visit.
Saskatoon Serviceberry
Saskatoon serviceberry (Amelanchier alnifolia) is a rose family shrub. Standing between 4 and 15 feet tall and 6 to 8 feet wide, it's native to Ontario's stream banks and open woods. Between April and June, immediately before its branches leaf out, Saskatoon serviceberry has abundant clusters of fragrant white blooms. Green summer leaves provide extended autumn displays of red and orange. Edible blue berries, up to 1/4 inch across, ripen in the summer. The berries feed small mammals and birds. The Lady Bird Johnson Wildflower Center recommends them for puddings, pies and muffins. Plant this shrub in sun to partial shade and well-drained soil. Generally not fussy about moisture, it may suffer during extended drought.
Northern Spicebush
Northern spicebush (Lindera benzoin) is a laurel family shrub between 6 and 12 feet high. Like other laurels, it has glossy, fragrant, deep-green leaves. They make a tasty tea, according to the Lady Bird Johnson Wildflower Center. In April, before the foliage emerges, spicebush blooms with clusters of light-yellow flowers that have earned it the title of "forsythia of the wilds." Bright-red berries, also fragrant, follow the flowers in summer. In fall, the shrub's golden foliage lights Ontario's woods, stream banks and swamps. Plant disease-and-insect resistant northern spicebush in sun to shade and well-drained, moist sandy or loamy soil.
Scarlet Bee Balm
A mint family perennial, scarlet bee balm (Monarda didyma) fills Ontario's meadows, open woods and stream banks with bright-red booms between May and October. Two-inch round clusters of the tube-shaped blooms crown the plant's 3-foot stems, in striking contrast to its deep-green, mint-scented oval leaves. Hummingbirds and butterflies, as well as bees, find the flowers irresistible. Plant deer-resistant scarlet bee balm in sun to part shade and acidic, moist or wet soil.
Resources