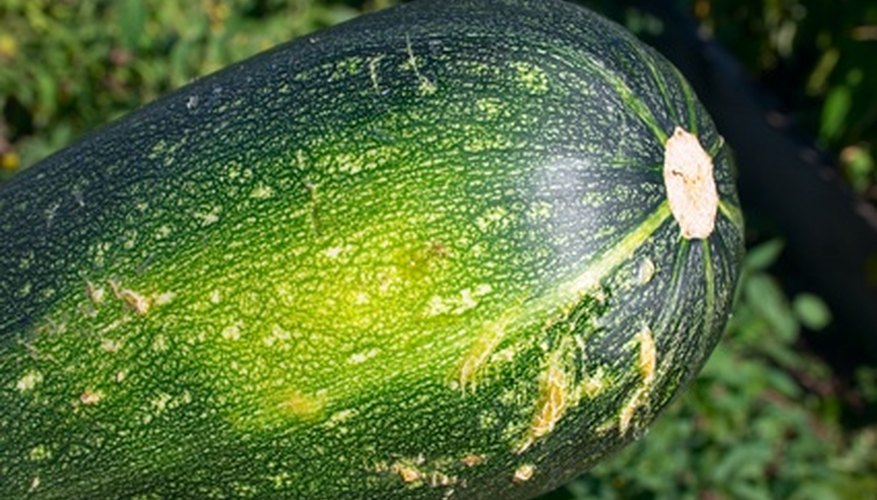 A lack of garden space shouldn't mean a lack of fresh garden vegetables as long as you have a sunny area and some large containers. There are several varieties of zucchini squash that are well-suited for container growing. As long as you provide ample room for root growth and plenty of water, zucchini plants will thrive readily in containers. Grow zucchini in containers to supply your family with healthy zucchinis throughout the growing season.
Select a container large enough to hold the number of zucchini plants you want to plant. Plant one zucchini plant in a 1-gallon container. Plant two zucchini plants in a 5-gallon container. Make sure any container is 2 feet deep for ample root growth.
Fill the container to the top with potting soil.
Plant two zucchini seeds in a 1-gallon container (you will thin back to one seedling) beneath ¾ inch of potting soil, or plant four zucchini seeds in a 5-gallon container (you will thin back to two seedlings). Space two zucchini seeds 3 inches apart in the center of the container. Space four zucchini seeds 4 inches apart in the center of the container.
Water the newly planted zucchini seeds generously immediately after planting them by pouring water over the soil until it drains out from the bottom of the container.
Place the container in a sunny location and keep the soil evenly moist while the seeds germinate. Do not water to the point of standing water in the container, but keep the soil evenly damp.
Thin the zucchini seedlings when the seedlings are approximately 4 inches high. Remove the weakest seedlings to leave one zucchini plant growing in a smaller container or two zucchini plants growing in a larger container.
Fertilize the zucchini plants once per month by mixing fertilizer with water according to package recommendations. Pour the fertilizer over the soil carefully without allowing the fertilizer to splash on the foliage of the plants.
Harvest zucchinis when they are between 4 and 6 inches long by cutting the vegetables from the vines with the sharp knife.
Things You Will Need
Planting container (with drainage holes)

Potting soil

Zucchini seeds

All-purpose fertilizer (water-soluble)

Sharp knife
Tip
Some suggested zucchini varieties that are well-suited to container gardening include Black Magic, Hybrid Jackpot, Diplomat, Dixie and Green Zucco.