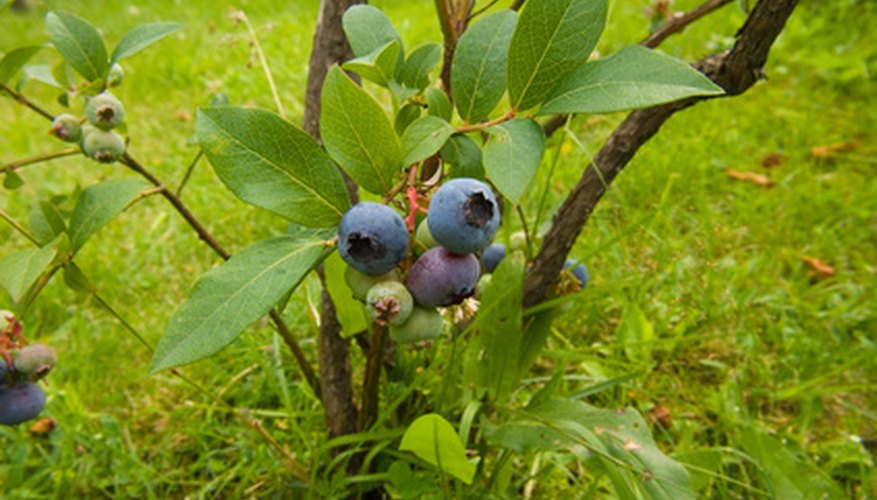 From the numbing Plant Hardiness Zone 4 cold of its McKean County winters to the 90 degree F., summer days of the Piedmont Plateau, Pennsylvania's climate can challenge gardeners. With a little effort, however, they can find several attractive flowering shrubs suitable for their Keystone State landscapes. Small border and foundation plantings or large screening hedges, these shrubs brighten Pennsylvania gardens with their bright flowers, berries, or fall leaves.
Dwarf Witch Alder
Dwarf witch alder is a small--up to 3 feet high--mounding shrub of the witch hazel family. It grows wild in the elevated sunny areas of Pennsylvania's southern coastal plain. This pest-and-disease-resistant shrub, says the Lady Bird Johnson Wildflower Center, is an excellent fit for planted in woodland gardens with rhododendrons and other spring-blooming shrubs. In April and May, clusters of white or pink powder-puff-like blooms cover its branches' ends. Heavy, glossy green summer foliage brings red or yellow autumn garden color. For best performance, plant this shrub in part shade and well-drained sandy or peaty loam on the acidic side.
Black Huckleberry
Black huckleberry (Gaylussacia baccata) is a small, densely branched spreading shrub useful as a ground cover in poor, rocky soils. From 1 to 2 feet high, it has small oval green leaves. They become shades of crimson or orange in autumn. Between May and July, says the Lady Bird Johnson Wildflower Center, black huckleberry has clusters of white or pink tube-shaped flowers. Birds and wildlife feed on the blue-black berries that follow. Black huckleberry is equally at home in sun or shade and dry, moist or wet locations. It performs best in acidic, sandy or rocky soil.
Crimsoneyed Rosemallow
Crimsoneyed rosemallow (Hibiscus moscheutos) is a shrub of the mallow family. Three to 8 feet high, it grows wild in Pennsylvania's marshes and wet uplands. Blooming form July to September, it has gray-green heart-shaped leaves and showy five-petaled hibiscus-like flowers. Five cream-colored petals have contrasting deep-red bases and columns of bright yellow stamens. The flowers are hummingbird magnets. Plant this shrub, recommends the Lady Bird Johnson Wildflower Center, in a sunny to partly shady spot with wet or moist alkaline soil.
Flame Azalea
Flame azalea (Rhododendron calendulaceum) is another spring blooming shrub. Native to to Pennsylvania's mountain woods, it stands between 6 and 12 feet high. In May, flame azalea's flowers appear just before or simultaneously with its leaves. Ranging from golden yellow to red, the vase-shaped blossoms light the wooded hillsides with their brilliance. Plant this popular ornamental shrub where it will get at least a few hours of sun each day, advises the Lady Bird Johnson Wildflower Center. It needs well-drained, moist acidic soil. Pruning plants when they are young will maximize later bloom. Ingesting any part of this or other rhododendrons is toxic.
Resources