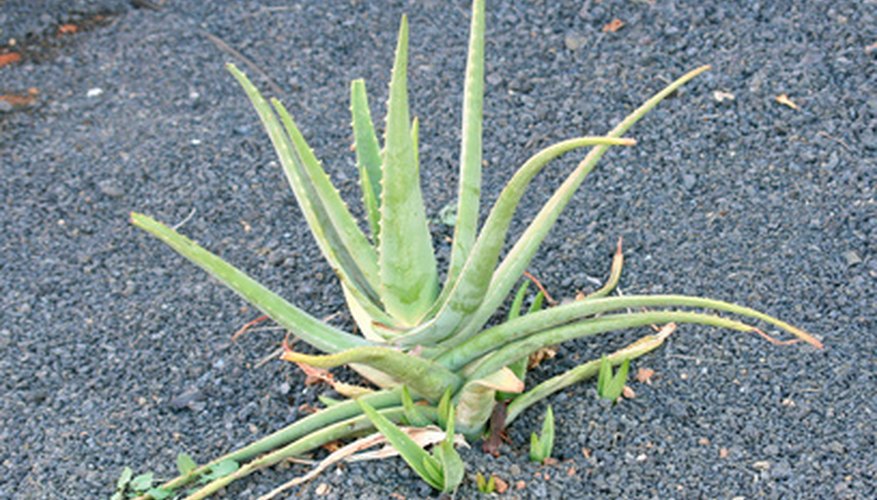 Aloe vera, according to Union County College, is one of 250 species of aloes in the world. Aloes are part of the lily family and are also considered a succulent plant because of their ability to hold liquid in their leaves. Aloe vera grows in a rosette fashion, a bundle of leaves that shoot out from a central location, in hot soil that drains well. Aloe vera is easily adapted to the indoor environment or is planted outdoors in loamy soil.
Plant aloe vera in a loamy soil so that the roots are thoroughly covered by soil. Water the soil so that it is wet as soon as the aloe vera is in place. Do not water again until the soil is dry to the touch.
Use a commercial potting mix to plant aloe vera in containers. The Arizona Cooperative Extension suggests adding to the potting mix perlite, granite grit or coarse sand to aid in drainage.
Fertilize aloe vera in the spring using a bloom type fertilizer that is a 10-40-10 mixture. Water the plant, as a general rule, every two to three weeks or when the soil is dry.
Move potted aloe vera outdoors during the summer months to give it the sunlight it needs to survive.
Protect aloe vera against cold dips below 40 degrees Fahrenheit. Sudden dips will damage the plant. Cover it with cardboard or a covering of plastic to maintain a consistent heat.