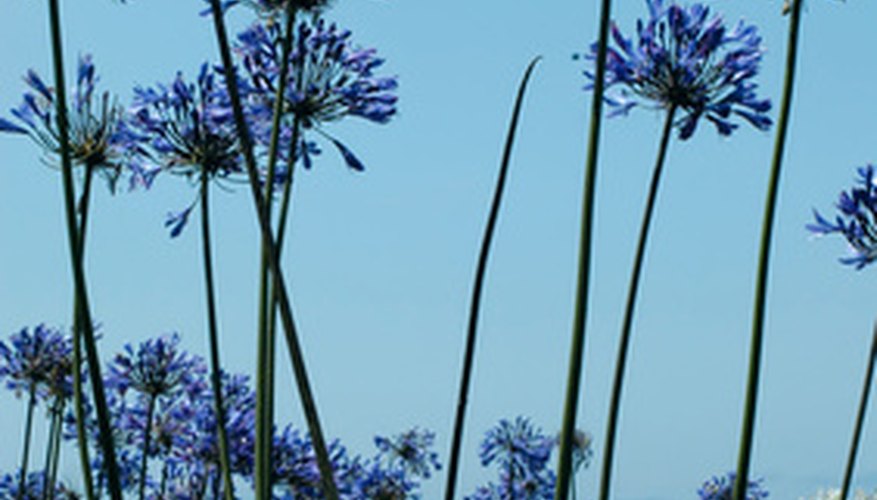 Agapanthus, commonly known as "lily of the Nile," is a south African genus of plants, made up of 10 species of perennials. A University of Florida IFAS extension fact sheet describes agapanthus as a plant with outstanding ornamental features that should be used more often in the home landscape.
Plant Form
Agapanthus is a quick-growing, evergreen, clumping, perennial herbaceous plant with thick, fleshy rhizomes (underground horizontal stems). Its size varies by cultivar, but it is usually seen around 2 feet tall or more. Agapanthus leaves are long, arching and strap-like, up to 2 feet long and 2 inches wide, with a leathery texture. It is usually comprised of 10 leaves per plant, forming a mound-shaped clump. Agapanthus flowers are borne on tall stems and are bell-shaped or tubular in form, 1 and ½ inches across, and vary in shades of blue, violet or white by cultivar. Agapanthus blooms in summer to early fall.
Agapanthus Culture
Grow Agapanthus in full sun to partial shade, planting 18 to 24 inches apart. This genus prefers nutrient-rich, well-drained soils and is moderately salt tolerant. Agapanthus are hardy plants and withstand drought and poor soil, but these conditions will impact flower production. Agapanthus needs regular watering in spring and summer. Propagate agapanthus by division in winter, or from seed. Agapanthus is hardy in USDA hardiness zones 9 through 11.
Landscape Uses
Agapanthus is used as an edging plant, bedding plant, pot plant or for cut flowers. This genus is a good border plant with its narrow, upright form, and dwarf forms are useful in containers or rock gardens. Once established in groupings, agapanthus forms a thick ground cover effect. Agapanthus flowers attract hummingbirds.
Selected Cultivars
Many cultivars and hybrids of Agapanthus are available, including dwarf varieties, such as Nanus. A. africanus, A. campanulatus, A. inapertus, Liliput, A. praecox, and Rancho White are several favorites and vary in flower color and plant height. Albus has white flowers, Flore Pleno has double flowers, and Variegatus has striped foliage. Consult reputable nurseries and garden centers to locate specific varieties.
Problems
Pests of agapanthus include chewing insects, maggots and borers. Protect agapanthus species from slugs and snails, which can damage young plants. When possible, choose disease-resistant selections of agapanthus to avoid botrytis disease problems, especially in the eastern U.S.