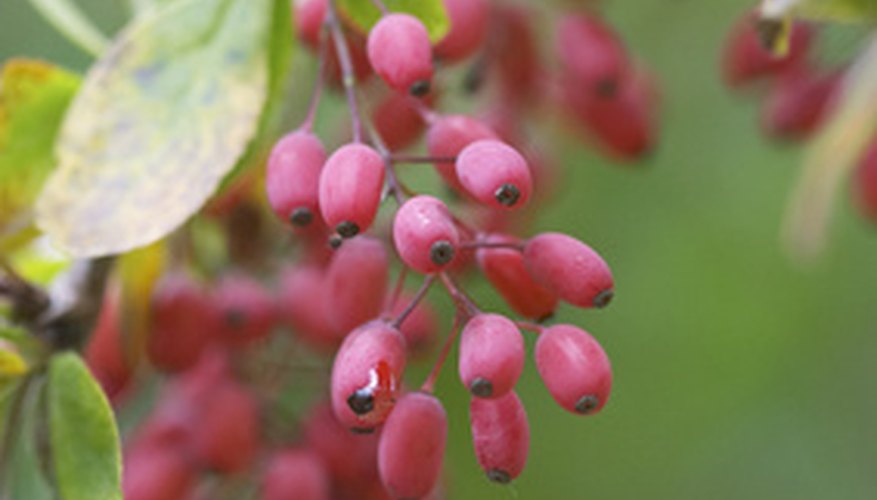 The Barberry plant is popular for barrier plantings because it tolerates many light exposures and soils. The foliage ranges from purple to green, depending on the amount of sun the plant gets. The Barberry also offers ornamental red fruit and vibrant fall colors. The Barberry is popular because it is low-maintenance and is mostly pest- and disease-free, except for Verticillium wilt. You must catch Verticillium wilt in its infancy to combat it.
Fertilization
Properly fertilize the Barberry shrub to help control Verticillium wilt when you first notice the disease. If you catch the disease in its early stage, with proper care, you might be able to eradicate the disease. Use a fertilizer that is balanced, such as 12-12-12 or 10-10-10. Potassium is important to combating Verticillium wilt. Do not use fertilizers made for the lawn, such as 45-0-0. According to Michigan State University Extension, fertilizers that are high in nitrogen encourage Verticillium wilt. Fertilize only in the early spring.
Pruning
After applying the fertilizer, prune the more severely infected branches, branches that are already dead and branches that show decay. Pruning the branches removes the Verticillium wilt and, if it has not spread through the rest of the plant, you might be able to save the plant. Pruned branches might come back in the following spring. Discard infected plant matter in the trash—do not add it to a compost pile, as the wilt will infect plants treated with the compost.
Removal
Once the Verticillium wilt takes over the plant, the disease can no longer be controlled. The plant must be removed before the disease spreads to healthy plants. Be sure to dig up the entire rootball when removing infected Barberry shrubs. The infected shrubs should be discarded in the trash. Do not stack or store infected shrubs and plant matter in the yard, as the disease easily spreads to healthy shrubs and other plants.