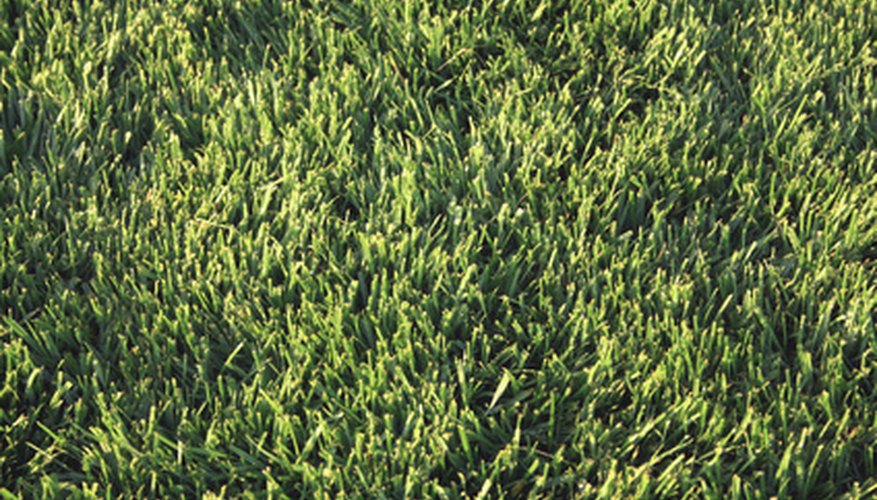 Crabgrass is a common grassy weed found throughout the United States. According to Cornell University Extension, crabgrass is a summer annual weed which dies in the autumn after the first frost. Crabgrass is capable of surviving drought conditions and will live in most soil conditions. Mowing crabgrass at a consistent height may prevent the spread of the weed through seed. Only 50 percent of the seed that is produced, according to Cornell, will germinate in the next year, so control is essential. Chemicals sprayed at the right time of year will halt crabgrass before it has a chance to grow.
Mow the lawn when desired grass reaches a height between 2 to 3 inches. This encourages a thick turf and reduces the amount of light crabgrass receives in the lawn. Select the correct mowing height according to the desired grass you have planted, as each species varies in its requirements.
Fertilize the lawn at a rate of 1 lb. fertilizer per 1,000 square feet. Fertilizing increases grass growth, and according to the University of California Davis, crabgrass is not very competitive, and will give up growing when turf is thick. Apply fertilizer according to your lawn species requirements, but as a general rule fertilize during the desired grass' active growing period.
Apply a pre-emergence herbicide to the lawn to prevent crabgrass seeds from germinating. Selective post-emergent herbicides that attack only grassy weeds are available for crabgrass. Speak to your local garden center experts to ensure the post-emergent you are considering is safe to use with your grass type and other plants you may have in the lawn for landscaping. Apply post-emergent herbicides when the temperature is between 60 and 80 degrees, there is no wind and rain is not forecast for the next 48 hours.