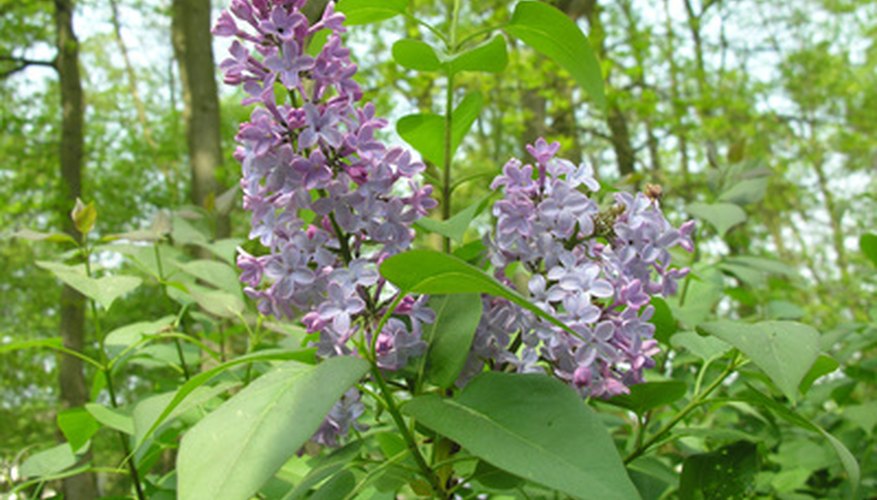 More permanent than herbaceous perennials, but not quite as permanent as trees, shrubs are widely used in landscaping. Smaller specimens can add height and winter interest to the perennial flower border. Medium-sized shrubs are often used in foundation plantings. Large shrubs can function as a lawn specimen, border hedge or part of a windbreak. Whatever growing conditions exist in your yard, several types of shrub will likely grow and thrive there.
Lilac
Even though it only blooms for two weeks out of the year, the common lilac (Syringa vulgaris) is widely planted in northern temperate zones as hedges, windbreaks and lawn specimens. Common lilac grows into a vase-shaped hedge approximately 12 feet high with a spread of 8 to 10 feet. Its lilac, purple, pink or white flowers bloom in mid-spring, filling the air with their sweet fragrance. The rest of the year, lilac makes an excellent hedge because of its dense growth habit and pleasing heart-shaped, medium-green leaves. Plant in sun or partial shade. Lilac is tolerant of all types of soil, as long as it is well-drained.
Redosier Dogwood
Grown primarily for its red bark, redosier dogwood (Cornus sericea) is a shrub-type of dogwood. It will grow well in most types of soils, but prefers a moist location and tolerates wet soils. Redosier dogwood will grow well in sun or partial shade. Its base increases in size by sending up suckers, which must be pruned out to contain its size in the shrub border. The flowers and fruit are not particularly interesting. The red bark on its stems makes redosier dogwood the star of the winter landscape.
Euonymus
Coveted for its bright red fall leaf color, euonymus (Euonymus alata), also called "burning bush," grows to a mature height of 8 feet. It is relatively care-free and grows in moist, slightly acidic soils. It is also adaptable to poor or compacted soil. Plant in full sun to full shade. The small twigs have corky ridges on them, which are much more apparent on the bare branches when these ridges catch and hold snowfall.