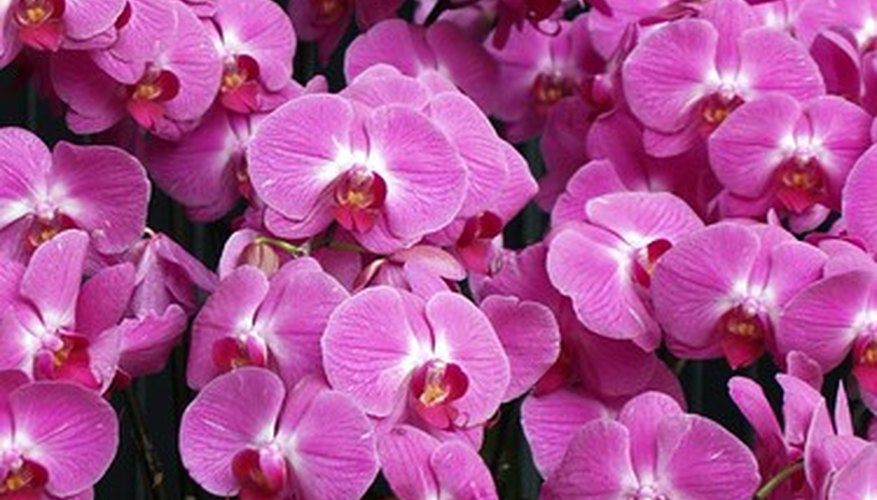 Orchids cultivated in pots can benefit from proper fertilization. Even with natural, organic fertilizers, it is important not to over fertilize your orchids. Orchids tend not to be heavy feeders and many orchids do better with too little fertilization than with over fertilization.
Types
There are a number of different types of natural fertilizer that will work well for orchids. Diluted fish emulsion is a good, balanced fertilizer that often has a little more nitrogen than some other natural fertilizers. Diluted kelp emulsion can also be a good source of nutrition for your orchids. To avoid over fertilization, dilute these two types of natural fertilizer by around 1/2 with water. Another easy to make natural fertilizer is to soak compost in water for several days and strain. Fertilize your orchids with this "tea" in place of water.
Frequency
In general, fertilize your orchids with a natural fertilizer once a month in place of water. Double-check the package on fish and kelp emulsion to see if there is a recommended dilution and fertilization schedule specific to orchids. Some manufacturers offer special direction for use of their kelp and fish emulsions with orchids.
Amount
The exact amount of fertilizer will depend on how you are growing your orchids. If yours are growing in a pot with no exposed roots, use the same amount of fertilizer as you normally would of water. If you are growing your orchids with exposed roots, put some fertilizer in a spray bottle and spray the exposed roots. Be careful not to spray the leaves with fertilizer as this can sometimes lead to pest and disease problems.
Fertilization for Flowering
When your orchid begins to flower, consider increasing the frequency of fertilization. Although in general, once a month is sufficient; when the plant starts to flower, consider increasing the frequency to every three weeks. In some cases, the increased fertilization can increase the longevity of your blossom.
Post-Flowering Fertilization
Once your flower has finished blooming for the season, slowly reduce fertilization to once every four to six weeks. In the two or three months before you expect flowering, move back to fertilizing once a month.