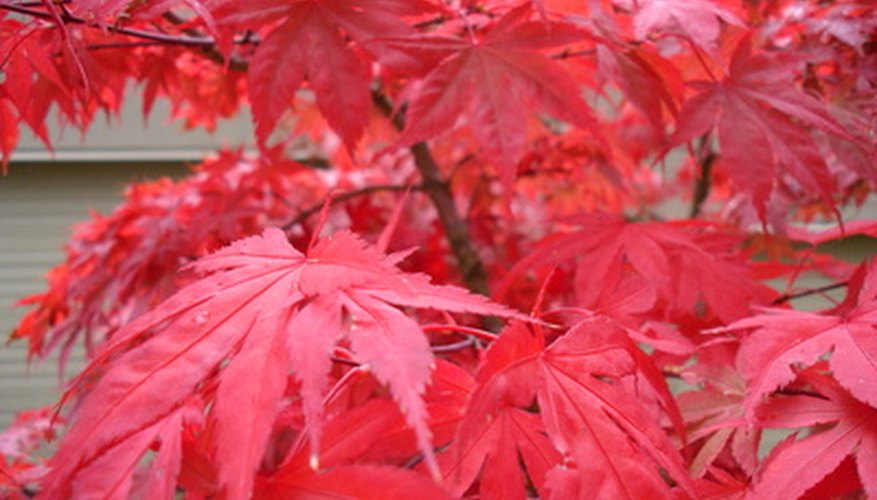 The Japanese maple tree (Acer palmatum) has several cultivars that produce pink leaves. Aphids, scales and borers are common pests that require control for the tree to survive, according to the University of Florida IFAS Extension. However, an advantage to growing the Japanese maple tree is its high resistance to most diseases.
Function
The Japanese maple tree functions primarily as an ornamental tree. It does not naturally attract wildlife since nuts or berries are not produced. Although it has red flowers, they are not full of nectar to encourage visits by hummingbirds or butterflies. For example, 'Kagiri Nishiki' pink Japanese tree is vase-shaped and smaller than other Japanese maple trees with pink and white foliage. Yet, it does not attract wild birds for nesting.
Size
The size of Japanese maple trees varies with the cultivar. The pink Japanese maple trees and other cultivars are all slow-growing. The average mature height is 15 to 25 feet with an equal spread. 'Goshiki kotohime' is the only dwarf cultivar. It grows 3 to 4 feet in height and displays pink leaves throughout the growing season and in the fall. 'Goshiki kotohime' makes a colorful indoor bonsai tree, due to its smaller size.
Geography
USDA hardiness zones 5A through 5B provide the best growing conditions for Japanese maple tree cultivars. The tree prefers well-drained soil, such as sand, clay or loam. Growing the tree in the sun or shade does not reduce or enhance the pink varieties. For example, landscapers can add a 'Beni tsukasa' pink Japanese maple tree with its red, pink and green foliage near a patio for additional shading or a 'Dissectum' (Irish Lace) cultivar as a showpiece for a sunny rock garden centerpiece.
Types
There are six pink Japanese maple tree cultivars for growing. They all produce pink leaves; some varieties change to red in during the fall months. According to the University of Florida IFAS Extension, the following Japanese maple trees have pink leaves: 'Beni tsukasa', 'Corallium', 'Dissectum' (Irish Lace), 'Goshiki kotohime', 'Kagiri nishiki' and 'Karasugawa'.
Warning
Early frost and harsh winters can injure and destroy Japanese maple trees. Be sure to cover the trees and avoid planting saplings in the late summer or early fall months, giving starter trees a chance to root and develop before the colder months.