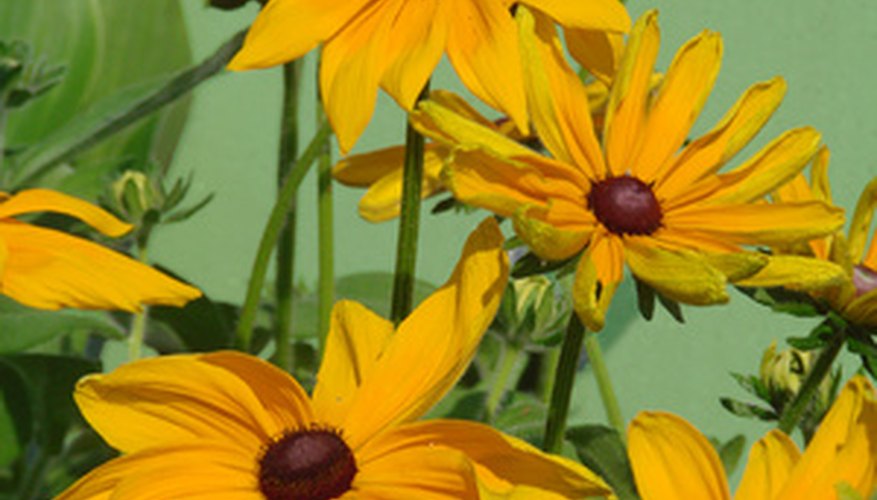 Lining a flowerbed or flanking a garden walkway, landscaping flowers and shrubs bring in texture and vibrancy to any outdoor space. Many landscape plants bloom in a rainbow of colors for a showy garden display. Grown in a wide range of shapes and sizes, landscaping plants are tolerant of a variety of soil types.
Crimson Pygmy Japanese Barberry
A deciduous landscape shrub, the crimson pygmy Japanese barberry (Berberis thunbergii 'Crimson Pygmy') has a slow growth rate and medium texture. The rounded, compact form is an ideal plant to grow in sets of three lining a backyard patio. Growing 2 to 3 feet tall and 3 to 4 feet wide, crimson pygmy Japanese barberry bushes have crimson foliage tinged with bronze that grows just under 1 inch long. When grown in shade, the leaves take on a green-to-red color for a brilliant landscape display. Crimson pygmy Japanese barberry shrubs have yellow to orange flowers and red berries that emerge in summer and last into winter. Crimson pygmy Japanese barberry shrubs require full sun to light shade and a wide range of soil varieties. The USDA hardiness zones for planting are 6 to 8.
Litteleaf Boxwood
Littleleaf boxwood (Buxus microphylla) is an evergreen landscape plant with medium-to-fine texture. Drought-tolerant and easy to transplant, littleleaf boxwood grows 3 to 4 feet wide and tall, making an ideal hedgerow along the landscape. With its ability to retain its color and foliage all winter long, littleleaf boxwood shrubs provide a constant source of color. Littleleaf boxwood has a rounded, dense form that is compact and low growing. The spring-blooming flowers on littleleaf boxwood are fragrant, and the medium green leaves grow up to 1 inch long. A bumblebee attractant, littleleaf boxwood plants require full sun to partial shade and well-drained soil to thrive. The zones for planting are 6 to 9.
Black-eyed Susan
Black-eyed Susan is a perennial plant with an upright, clumping growth habit and bright yellow blooms. Growing 1 to 3 feet tall and wide, black-eyed Susan have 3-inch, daisy-like blooms that bloom from summer through fall, making for a long-lasting blooming season. A butterfly and bird attractant, Black-eyed Susans are ideal tucked into a mixed perennial bed or border. Black-eyed Susan requires full sun to part shade and well-drained soil. The zones for planting are 3 to 7.