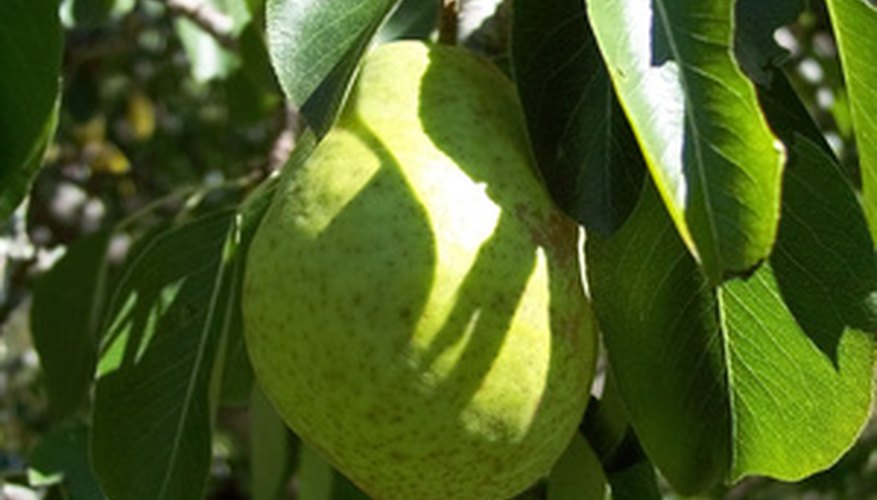 Although pears will grow in all areas of Iowa, the cold winters prevent the most familiar supermarket varieties from doing well in any of the state's plant hardiness zones. Fire-blight also threatens pear trees in this northern area, and this combination of challenges makes variety selection the most important decision. Selecting disease-resistant trees known to produce well in the local area enhances chances of success for the home pear grower in Iowa.
Plant cold-hardy and fire-blight resistant pear cultivars such as Ambrosia, Delicious, Maxine and Moonglow, as recommended by Iowa State University.
Plant more than one variety of pear tree since most cultivars do not self-pollinate, although some varieties, such as Parker and Patten, will bear small crops if no other type grows nearby.
Plant on a site that has fertile, well-drained soil with a pH of about 6.5. Plant pear trees in locations with protection from winter winds. Plant on slopes rather than in low-lying frost basins.
Spray pear trees regularly during the growing season with general purpose insecticide and fungicide. Spray as many as 10 times per year if necessary to keep the pear trees disease- and insect-free. Follow the label instructions for dosage.
Prune pear trees each winter, training the trees to a ladder structure for best air circulation and distribution of sunlight within the canopy. Thin the fruiting limbs by as much as 1/3 of the total canopy to produce strong limbs and healthy trees.