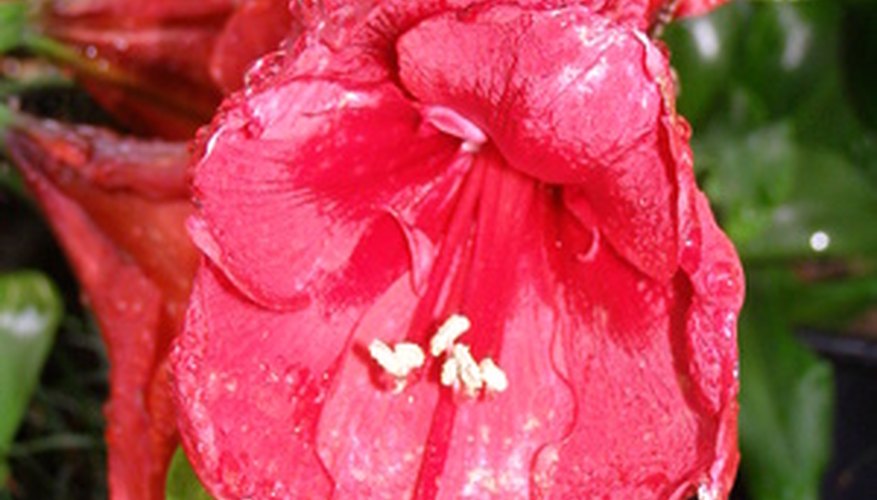 Amaryllis flowers are often seen during the holidays, along with narcissus and poinsettias. In her book, "Hippeastrum: The Gardener's Amaryllis," Veronica Read says that amaryllis first developed in South Africa and South America. While they bloom indoors during the winter, they are in fact a tropical flower sprouting from a large bulb that can be up to 6 inches in diameter. The larger the bulb, the larger the flowers will be. The flower stalk sprouts first with one or two leaves. The flowers are lily-shaped and up to 5 inches across. The leaves continue to grow long after the flower has bloomed, providing energy for the next season's blooming.
Red
Red is one of the most common colors of amaryllis, most likely because the bulb is forced so often during the holiday season. There are a number of variations of red, including bright red, orange-red and deep burgundy red.
White
Again because amaryllis are associated with Christmas, white is another common color. Whites include almost a pure white, cream colored and a light, creamy yellow.
Pink
Pink amaryllis range from light to dark pink and pink mixed with orange to produce a range of colors from peach to salmon.
Variegated
In addition to red, white and pink, variegated colors are popular. Most of the colors are in conjunction with white. Flowers may be tipped in white, mostly white with stripes of red or pink, or a solid color outlined in white.
Resources