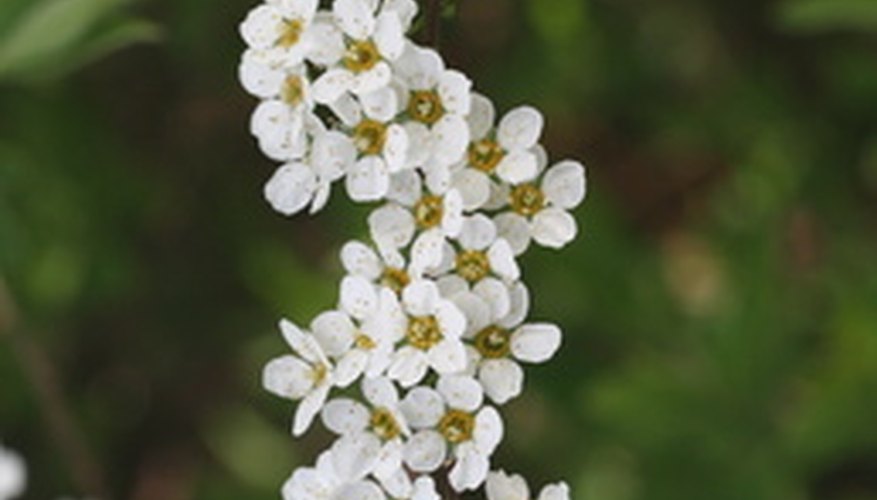 Soil near concrete foundations, retaining walls and walkways can turn more alkaline than soil in the the surrounding area. The high alkaline content of the concrete gradually leaches into the nearby soil. In some cases, it can be fatal to acid-loving plants like evergreens and azaleas. Plant shrubs that are tolerant of high alkaline soils in these areas for the best results.
Japanese Barberry
Grown for its purple-colored leaves, Japanese barberry (Berberis thunbergii "Atropurpurea Nana'") is tolerant of a wide range of soil types, including alkaline soils near concrete foundations. It forms a small bush only 3 feet high and 3 to 4 feet wide. Although it will grow in partial shade, its leaves will not be as deep red as when grown in full sun. Waxy yellow flowers bloom in mid spring.
Vanhoutte Spirea
Widely used in foundation plantings, spirea (Spiraea x vanhouttei) is also commonly known as the Bridal Wreath Plant. It is hardy through USDA Zone 3 and grows to a height of 4 to 8 feet. It is extremely tolerant of soils with a high pH--a common occurrence near concrete--and is also tolerant of drought and a wide variety of soil types as long as they are well-drained. Spirea performs well in either full sun or partial shade.
Nannyberry
A large shrub or small tree growing to 25 feet high, nannyberry (Viburnum lentago) is hardy through USDA Zone 2. It prefers dry sites in full sun and will tend to mildew in too shady a location. Although it is tolerant of high alkaline soils near concrete, nannyberry is intolerant of salt residue or spray and should not be planted near roadways that are salted in winter. It produces clusters of tiny white flowers in late spring that produce football-shaped berries. The berries have the unusual growth habit of morphing through several color changes. They begin green, then change to yellow, then red and finally they turn black with a bloom of powder blue in late summer. Nannyberry will naturally take a shrub form, but can be pruned and trained to a small tree with a single trunk.