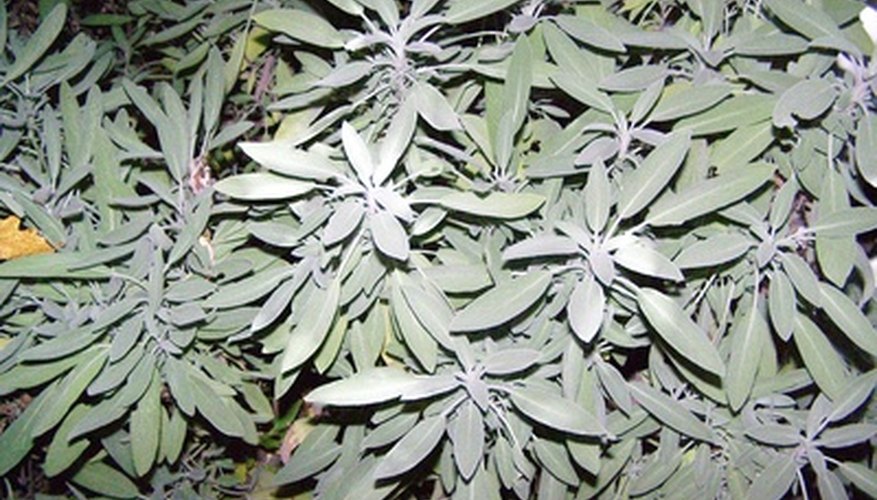 Like many other members of the huge plant family that includes mint, lavender and several other beloved herbs, salvias are found all over the world and feature aromatic leaves and showy displays of flowers. Ornamental varieties are generally referred to as salvia, while sage, another term for salvia, is typically used to describe the "culinary" species of the plant used for cooking.
Plant Features
The U.S. Department of Agriculture estimates that over 700 distinct species of salvia occur around the globe, both as annual and perennial shrubs and herbs; salvias occur in every U.S. state except Alaska and in six of the 10 Canadian provinces. Though the leaves can take many forms, salvia foliage is generally very aromatic when rubbed or crushed and tends to be thick and leathery. Salvia produces flowers in virtually every color, though red, purple, pink and white are common blossom colors.
Cultural Requirements
The vast majority of Salvia species perform best in sites where they receive abundant sunlight, and those sold through commercial nurseries and plant suppliers generally label salvia as a full-sun plant. In North America, native salvias tend to be more drought-tolerant, occurring naturally along coastlines and in the California chaparral. Non-native salvias generally prefer moist, rich soils and will tolerate part-shade conditions. Salvias often readily self-seed and can be aggressive under cultivation, but the plant is an excellent choice for naturalized settings. Salvias are irresistible to bees, butterflies and hummingbirds.
Common Non-Native Salvia Species
One species of salvia that may be the most widespread is the firecracker sage (Salvia splendens). Heavily used in landscape settings because of its long bloom period, large swaths of the plant produce a powerful visual impact. As a non-native salvia, this plant performs better in richer soils and benefits from afternoon shade.
Mexican bush sage (Salvia leucantha) is an evergreen variety which can grow to be 6 feet tall. Cutting the plant back after it has flowered encourages re-blooming and also restrains leggy growth. This species performs well in hot, sunny locations. Another South American native, pineapple sage (Salvia elegans) can be used similarly.
Native Salvia Species
North American native varieties well-suited for hot, sunny conditions include scarlet sage (Salvia coccinea), which is indigenous to the southeastern United States and is known for its tall spikes of bright red flowers. Deadheading the flowers after they fade can help prevent excessive re-seeding, though if left to dry the flower spikes produce a tinkling bell-like sound when rattled by wind or insects.
Common, or kitchen, sage (Salvia officinalis) is the friend of the poultry chef and is used frequently to flavor cornbread stuffing. This species loves hot, dry conditions in full sun and grows into a sprawling, woody shrub if left unpruned. Spires of soft purple flowers appear in late summer to fall and attract bees and butterflies.
Pests and Problems
In the outdoor garden, salvias are virtually problem free; horticulturalists and botanists report no major problems with pest infestations or other diseases, though slugs and snails may be problematic in humid climates. Grown in the greenhouse, however, salvias may suffer from attacks of whiteflies, aphids and spider mites. Knock pests from the foliage by spraying them with a direct stream of water. Consider introducing beneficial insects like ladybugs and lacewings to help keep pest populations under control.