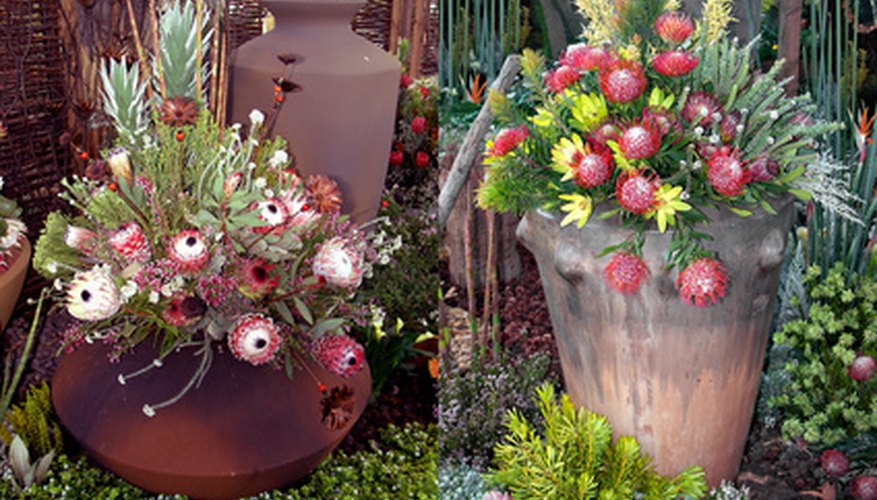 Container gardening allows flowers and plants to grow in places like patios, decks and balconies where there isn't any available soil. Flower pots near a front entryway greet visitors and guests. Flower pots with an unusual specimen plant are focal points in the garden. A flower pot can even be a miniature water garden if the pot is watertight. Take some time to plan what flowers will be planted in which pots.
Choose plants that will do well in the lighting conditions where the pot is placed. Flowers that love the sun will stop blooming when placed in the shade. Shade flowers will burn in direct sunlight. Most flowers can tolerate dappled shade or morning sun and afternoon shade.
Select the largest pot possible for the space. Large pots don't dry out as quickly as small pots. In the summer heat that's important. A large pot accommodates more and bigger plants. Annuals only need 12 inches of soil but roses require 24 inches.
Co-ordinate the shape and color of the pot with the shape and color of the flowers and the background of where it's placed. A red pot filled with red flowers like geraniums will fade when placed against a red brick building. A narrow pot looks top heavy (and will actually be top heavy) when planted with a tall bushy flower like hibiscus.
Consider the color of the pots and how it affects the temperature of the soil within it. Flowers do not like their roots hot. Dark colored pots, such as burgundy, navy blue or black may look fashionable but they absorb heat. If placed in the sun the soil may become too hot for the plants and they'll die.
Combine different plants with different growing habits. All tall plants or all short plants in a flower pot don't have as much interest as different plants. Combine tall plants, such as snapdragons, with bushy plants like petunias, and a trailing plant like alyssum. Another combination that works for spring is tall tulips, pansies and candytuft. A fall combination could be purple trailing sweet potato vine, burgundy chrysanthemums and yellow dwarf sun flowers.
Pick up the color of the pot with one of the flowers. It gives a thoughtful coordinated look to the flower pot. For example if the pot is yellow, use yellow coreopsis in the pot. If blue, plant blue violas. The eye travels from the base of the pot up through the matching color of the flowers. Another alternative is to plant flowers that are all in the same shades of the color of the pots.