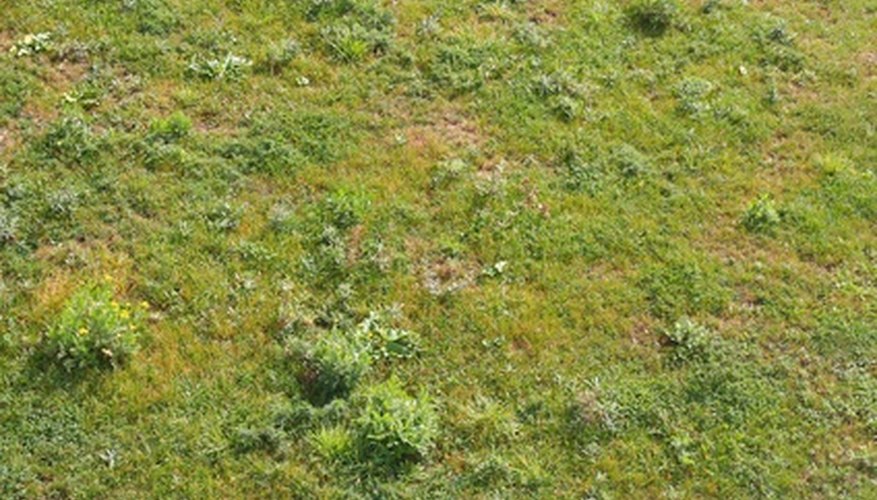 Arizona is home to several native grass weeds that should be identified before you spray with an herbicide or remove them. It is smart to get a grass-weed field guidebook with pictures to help you identify the Arizona grass weeds, since some can be more invasive than others. Once you identify the grass weeds, you can then decide the best method of taking care of them.
Identify common Arizona bluegrass. This perennial grass weed pops up in lawns that have received a lot of water or that have a steady irrigation system. With 3- to 4-inch-long leaf blades, bushy bent stems and bright green foliage, this weed thrives from March to September, particularly during the spring months.
Look for dense barnyard grass in pastures or fields. The purple-green spiky bristles grow up to 2 inches long and are easily recognizable by the color.
Look for spreading clumps of weeds on Arizona lawns or fields that have leaf blades at least 6 inches long and are flat. These grass weeds are either bristlegrass or green foxtail, growing bristles that are purplish tan and small flowers. These flourish from June to November.
Pick out Johnson grass weeds by the long bright-lime green leaves that can grow up to seven feet tall. It flowers from April to November, thriving with vigorous growth on lawns and in ditches.
Identify the yellow-green rabbitfoot grass by its thick flowering layers and spiky flowers that grow from 1 to 4 inches long. The ideal environment for this weed is in rock gardens or washes. This weed also has tan or yellow bristles that grow from March through October.
Find Bermuda grass, otherwise known as devil grass, from May to November in lawns. This weed grass has leaves that range from 1 to 4 inches long with skinny wiry runners and sturdy tall stalks that flower.
Identify stink grass by the crowded spikes that pop up with anywhere from one to four dozen small flowers from May to October. The spikes have small indentations along the stem joints, which are glands.
Look for wild oat, or oat grass, in well-irrigated lawns and rock gardens. Wild oat has thin, tough-textured leaves that range from 3 to 8 inches long and small bristles that flower with red and brown hairs that range a half inch long.