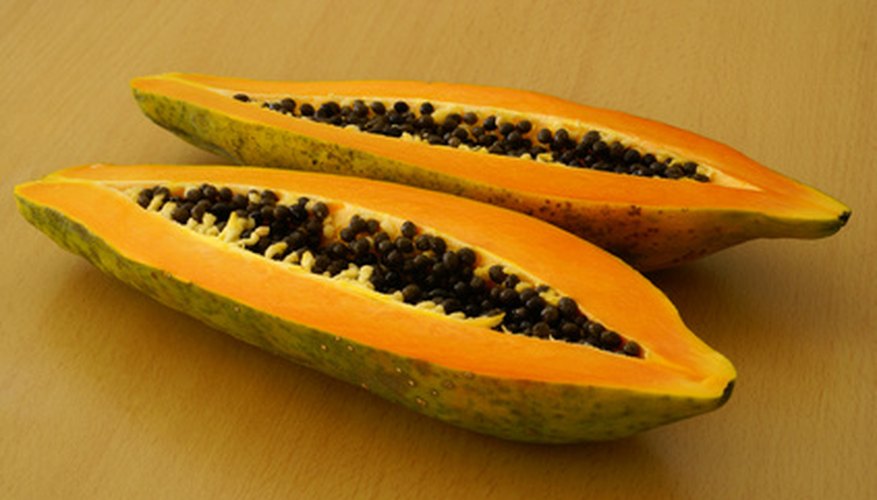 Founded in 1836 and located in South Texas, Houston is the fourth-largest city in the U.S. This city, which has bayous winding through some neighborhoods, has a sub-tropical climate with temperatures well over 90 degrees F in the summer and lots of humidity. Classified as Zone 9 on the U.S. Department of Agriculture Plant Hardiness Map, Houston has temperate winters.
Some stone fruits, which require winter chilling, grow well in Houston, as do tropical fruit trees. In general, fruit trees should be planted in full sun.
Papaya
Papaya (Carica papaya) is a tropical fruit native to America that produces a large, oblong fruit with smooth green or yellow skin and orange flesh. The fruit may be up to 1 foot long and has a cluster of dark seeds in the middle. It may be eaten like a cantaloupe, with the seeds scooped from the middle. Papaya trees are evergreen in Houston and have leaves the resemble a cross between oak and fan palm leaves.
Papaya trees are available in male and female varieties and one of each is required to produce fruit. These trees should be planted in full sun and require regular water.
Peach
Varieties of peach trees (Prunus persica) that need fewer hours of chill time can thrive in Houston's mild winters and warm summers, and some need the hot summers to produce sugars.
The Bonanza II and Elberta varieties are the among those that will produce good fruit in Houston. The Bonanza II is available in a dwarf variety that has showy flowers and produces a large, flavorful fruit, while the Elberta, which requires the high heat of the summer to produce sugars, produces a medium to large fruit with yellow flesh.
Peach trees require 600 to 900 hours of chill time (temperatures below 45 degrees F), should be planted in full sun and require regular water.
Asian Pear
Two varieties of Asian pears (Pyrus pyrifolia), the Fan Stil and Keiffer, grow well in Houston's temperate winters and hot, humid summers. Many other varieties cannot withstand the summer heat, and Asian pears require only 400 hours of chill time. The Fan Stil variety is an Asian pear hybrid with a crisp, almost apple-like texture and a juicy sweet flavor. The fruit is bell-shaped, with the bottom about the size of a tennis ball. The skin is yellow with a red blush. The Keiffer variety produces a large, oval fruit with green skin and a somewhat gritty texture. This fruit is usually better for baking or canning than eating.
Both varieties are widely grown in the South and are resistant to fireblight. These trees do not require pollination, but will produce a better harvest if two or more varieties are planted. Pear trees should be planted in full sun and get regular water.
Resources