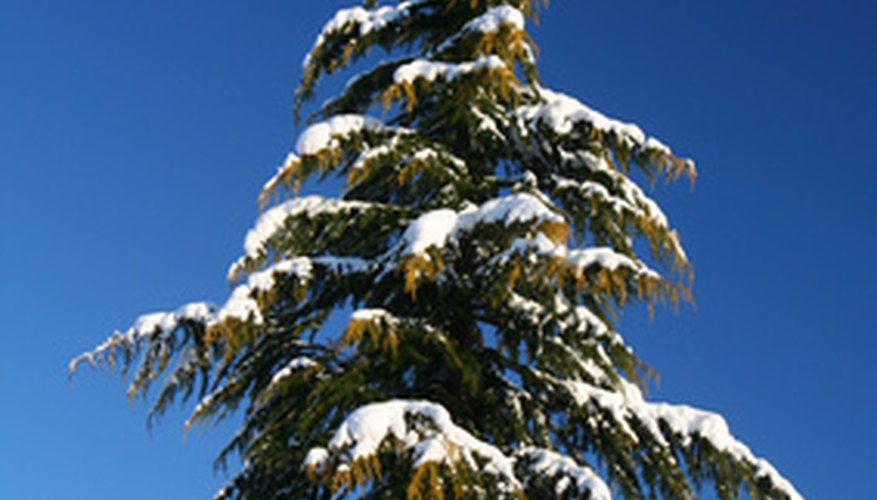 snow covered tree image by Barbara Helgason from Fotolia.com
Evergreen trees provide a constant splash of color during winter when most other plants and flowers have died down for the season. With their ability to retain their needles and color all year long, evergreen trees are a warm respite to winter's cold climate. Thriving in full summer sun and dark, shady winters, many evergreen trees and bushes tolerate a wide range of soil types.
Giant Arborvitae
Giant arborvitae (Thuja plicata) is a rapidly growing evergreen tree that thrives in the full sun of summer and shade of winter. The upright, conical shape and fine texture creates a commanding landscape presence. Giant arborvitae grows 50 to 80 feet all and 15 to 20 feet wide. The deep green foliage on giant arborvitae retains its brilliant color all winter long to provide a burst of green to a dull winter landscape. Planted along a backyard patio for a privacy screen, giant arborvitae casts dense shade around the garden. Long-lived, giant arborvitae thrives in sun and shade and requires well-drained soil to thrive. The USDA Hardiness Zone for planting is 5 to 8.
Japanese Cryptomeria
Japanese cryptomeria (Cryptomeria japonica) is an evergreen tree with a moderate growth rate and a fine to medium texture. Japanese cryptomeria has an upright, pyramidal shape and grows 50 to 60 feet tall and 25 to 30 feet wide. Flourishing in sun and high shade, Japanese cryptomeria has blue to green foliage that is soft to touch, and when exposed to winds, bronzes in winter. Planted side-by-side, Japanese cryptomeria is an ideal tree for creating a windbreak around the home. Versatile and easy to grow, Japanese cryptomeria tolerates a range of soil varieties but requires well-drained soil that is deep. The zone for planting is 5 to 9.
Wintergreen Barberry
An evergreen shrub with a slow growth rate, wintergreen barberry (Berberis julianae) grows in a rounded, dense form that opens with age. Growing 4 to 6 feet tall and 6 to 8 feet wide, wintergreen barberry shrubs make ideal plants to grow in clusters along a front bed. Drought-tolerant, wintergreen barberry shrubs are the hardiest barberry shrub variety and do well in sun and shade. Spring brings to the wintergreen barberry small, yellow flowers that light up the garden with color. The dark green, serrated leaves of the wintergreen barberry grow 2 to 3 inches long and turn a deep crimson during fall. Adaptable, wintergreen barberry shrubs grow in a wide range of soil types. The zone for planting is 6 to 8.