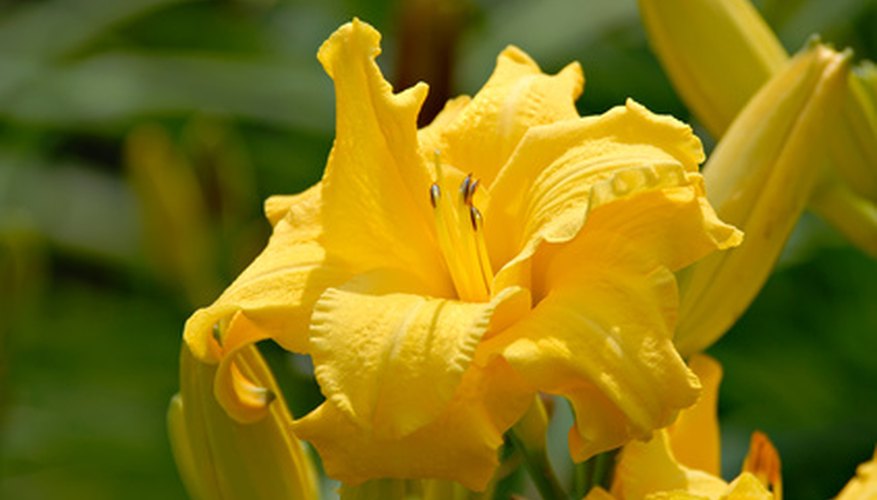 Although not a true member of the lily family, daylilies provide lush foliage and hardy, colorful blooms all season long. Hemerocallis is the botanical name for this family, meaning "day beauty" in Greek. These hardworking perennials don't require much fuss, but they do like properly drained soil. You can improve drainage by planting daylilies in raised beds, but be sure that rain water and irrigation won't be tempted to settle in your planting zone.
Mark out the dimensions for your beds by driving wooden stakes into the ground, forming 4-foot squares. These dimensions will make weeding and watering much easier. Allow 2 feet of space between each bed.
Pull up the sod in the bed area, if necessary, and loosen the soil in the center of the bed with a shovel. Level the surface along the perimeter of the bed for constructing the walls.
Set railroad ties or landscape timbers along the perimeter of the bed, butting the end of one against the end of the other. Make sure the ties are level, adjusting them as you work.
Drive metal stakes, placed at a 20-degree angle to the tie center, through the wood and into the ground 12 to 18 inches to secure the ends of each tie.
Stack additional levels of ties, if needed, until you reach the wall height you want. Overlap each new row, and drive metal stakes through the ends of each new tie to secure it to the level below.
Fill the bed with a blend of garden soil from the site and several inches of rich, organic material such as composted leaves or manure. Cultivate the bed to a total depth of 12 inches for best results.