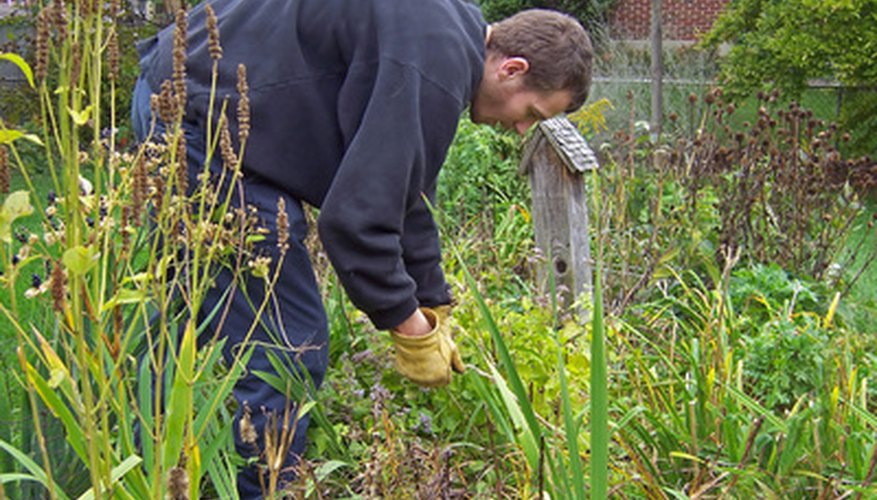 Crab grass is a weed that taunts homeowners all summer. A warm-weather weed, it waits until temperatures are at least 60 degrees F to germinate and sets seed in July. Crab grass is a tough weed and has adapted strong survival techniques. Because of this, agronomists at Purdue University suggest that, while crab grass can never be completely eradicated, it can be controlled naturally with proper lawn management practices.
Mow the lawn no lower than 2 inches. Healthy, longer turf shades the soil, making it more difficult for crabgrass seeds to germinate.
Apply fertilizer according to the specific type of lawn's requirements and at the correct time. Consistent, proper fertilization allows the lawn to grow thicker, allowing less room for crabgrass to grow.
Apply a 2-inch layer of mulch to garden areas in which lawn isn't being grown, such as flower beds. This barrier will not only discourage the growth of crab grass, but other weeds as well.
Water the lawn deeply. Apply the entire week's allotment of water during one watering session, rather than watering lightly several times per week. Agronomists at Purdue University suggest that you water the lawn deeply and then withhold water until the lawn shows signs of stress, such as the grass taking on a bluish-grey coloring, and indentations from footprints not springing back.
Apply a post-emergent natural crab grass killer (such as AgraLawn or Garden Weasel), according to package directions. You can find these products at some of the larger lawn and garden centers and online.
Things You Will Need
Fertilizer

Mulch

Natural crabgrass killer