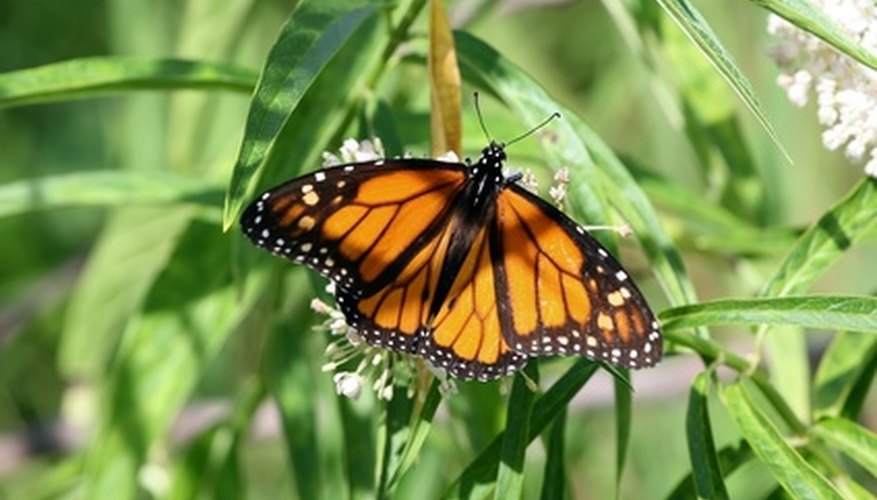 Butterfly weed (Asclepias tuberosa) is an herbaceous, perennial flowering plant that is indigenous to Florida and regions throughout the eastern United States. It is known for being favored by Monarch butterflies, who use it for sustenance during the caterpillar stage of their growth. Butterfly milkweed produces red or orange flowers in mid-summer, making it not only beneficial to butterflies, but a colorful addition to your Florida garden.
Choose a planting site for the butterfly weed that is in full sun, and where the butterfly weed can grow undisturbed. For coastal areas of Florida, choose a site that offer protection from wind, with shrubs or trees nearby, as suggested by the North American Butterfly Association.
Cultivate the soil in the planting area using a garden fork, or a spade down to a depth of between 12 and 14 inches. Remove any rocks, sticks, weeds or roots from the planting area as you spade the soil.
Spread 3 to 4 inches of fresh mushroom compost, peat moss or home-made compost over the planting area. Butterfly weed cannot tolerate heavy soil. The use of a soil amendment is especially beneficial if you live in the Ocala Uplift District, the Tifton Upland District or other areas in and around the Florida Panhandle. which is known for having heavy soil.
Work the soil amendment thoroughly into the planting area using a spade or a garden fork.
Dig a planting hole for the butterfly weed that is 10 inches wide by 12 inches deep, if planting a butterfly weed that is growing in a 1-gallon planting pot. Dig a planting hole that is 14 inches wide by 16 inches deep, if planting a butterfly weed in a 5-gallon planting pot.
Tip the planting pot horizontally on a potting bench, a table or the ground. Tap downwards along the base of the planting pot until it loosens from the root system. Remove the butterfly weed from its planting pot.
Plant the butterfly weed into the planting hole. Keep the top of its root ball level with the surface of the surrounding soil. Scoop in soil around the planting hole until it is three-quarters full. Pour water into the planting hole to fill it full. Press down the soil gently in the planting hole using your foot, to eliminate air pockets. Scoop in more soil to fill the planting hole full of soil once the water has dissipated completely.
Push in two to three, 12- to 14-inch-tall planting stakes around the root system of the butterfly weed during the end of the growing season, summer to early fall. According to the University of Florida, butterfly weed is slow to sprout in the spring. Planting stakes can help prevent any damage, such as hoeing, or crushing its delicate crown during the dormant season.