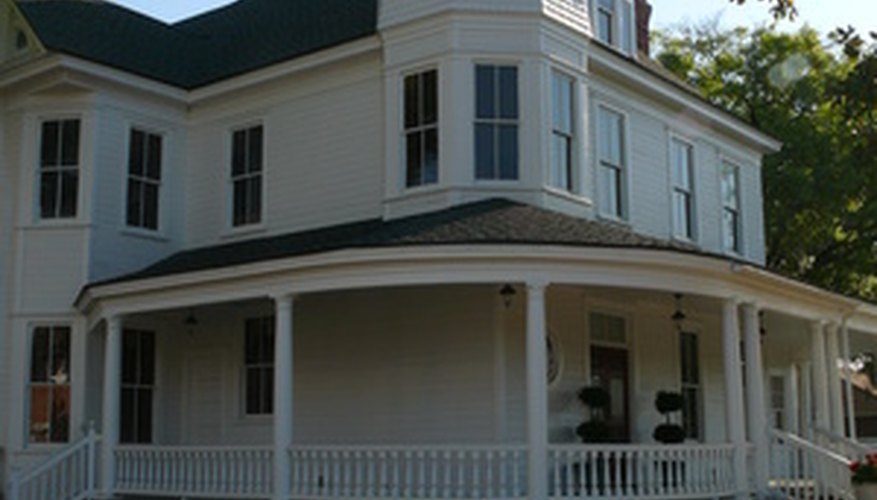 Flowers on a porch are a welcoming sight. Perhaps you'd rather not use porch hanging baskets or perhaps your porch isn't suitable for hanging baskets. For example, an unusually tall porch roof or excessive winds may make hanging baskets impractical. Fortunately, you can still bring the beauty and scent of flowers to the porch.
Plant Stands
Use decorative plant stands made of metal or plastic. They can be as narrow as a single pot or 2 feet or more wide. Choose a multilevel stand so you can use a large array of plant container sizes. Place a plant stand against a sunny railing or tuck it against a wall for shade-loving plants.
Wall-Mount Plant Holders
Screw metal planter supports to the wall to hold a single plant. The plant holder may have an extended swing-arm, suitable for holding a plant at the right level and location on the porch. Or, use stationary, wall-mount plant holders for single plants.
Side Table
Add a plastic, metal or wooden side table and put plants on it. If you're using a wooden table, ensure it is properly sealed to prevent water damage. If you buy a side table with a bottom shelf, you can store other items on it, or put shade-loving plants on it.
Floor Planter Boxes
Instead of porch railings, secure tall, narrow planters to the floor, built to a height to replace railings. If you use a planter box instead of a railing, the box needs to be 27 to 36 inches tall, according to the government Occupational Safety and Health Administration standards. You can build the planting portion of the box to any depth, such as 6 to 10 inches deep.
Rail Planters
Put trough planters or window boxes directly on the porch railing. Use a strong wire frame that hooks over the railing, designed to support window boxes. This gives you lots of color, design and size options. You can also buy window box planters specifically designed to straddle a porch railing.