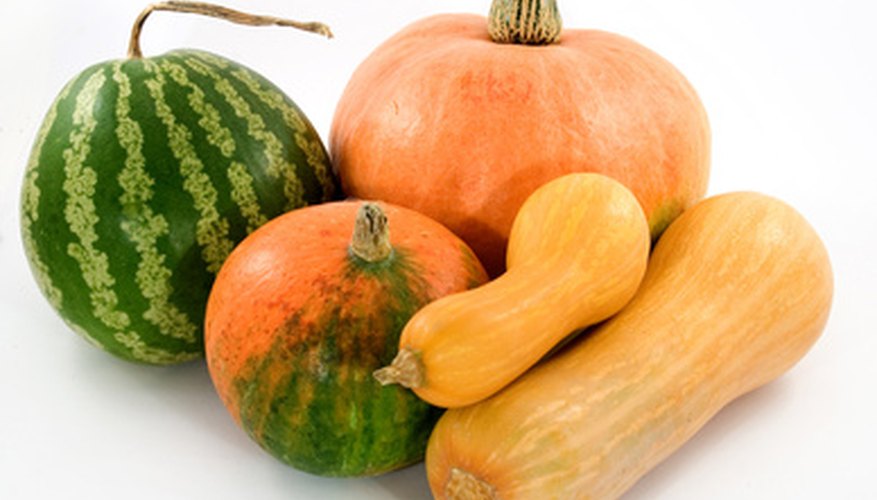 A variety of heirloom seeds grow well in Montana gardens, including a lengthy list of vegetables. To qualify as a heirloom seed, the seeds must be handed down for 50 or more years. The vegetables from heirloom plants usually taste delicious and often look different than the hybrid plants sold today. If you plan to collect seeds from the plants so you can grow them again the following year, make sure you know which ones require isolation to keep them from getting pollinated from other types of plants.
Tomatoes
For delicious flavor with large fruits, try Brandywine tomatoes. This famous heirloom variety comes from the Amish in Chester County, Pennsylvania starting in 1885. The red tomatoes reach up to half a pound each in weight. To grow Brandywine in Montana, you'll need to start growing the seeds inside and transplant them as soon as the threat of frost passes. Another heirloom tomato that grows well in Montana is the Riesentraube, grown by the Pennsylvania Dutch before 1847. The tomatoes grow in bunches, much like grapes, with each fruit reaching an inch in diameter.
Beans
For stringless, productive harvest, try the Lazy Housewife pole bean. Also known as White Cranberry, German immigrants planted the first seeds around the time of the Civil War. The name implies that even less motivated housewives could find time to prepare these beans for meals. One of the more popular beans includes Kentucky Wonder, also known as Old Homestead, grown from seeds handed down since 1864. One of the oldest runner beans, Scarlet Runner is perfect for snapping and shelling. Its seed originated in the 1600s.
Sweet Corn
When it comes to biting into a delicious ear of sweet corn, heirloom varieties such as Country Gentleman and Stowell's Evergreen stand up to the test. Country Gentleman, also known as Shoe Peg, produces white corn with deep, small non-rowed kernels that resemble shoe pegs, as its name implies. Stowell's Evergreen, passed down since 1849, was once a leading white corn cultivar for home and commercial growers. One of the first yellow sweet corns, Golden Bantam, originated in 1902 when it set the standard for open-pollination of sweet corn. If you plant to use some of the seeds for the following year, remember to isolate each patch of sweet corn so the plants do not cross-pollinate and create new hybrids. You can cover ears of corn that you want to use as seed with brown paper bags, and hand-pollinate the ears.
Pumpkins and Squash
A great heirloom pumpkin seed that produces small fruits perfect for pies, Small Sugar pumpkins grow to about 6 inches in diameter. Small Sugar comes from seeds passed down from before 1860. For acorn squash, try Fordhook Acorn, a variety originating in 1890 that the Burpee Seed Company isolated from the Madan-Arikar squash. Another acorn squash includes the Table Queen, a variety believed to come from a strain grown by the Arikara tribe.