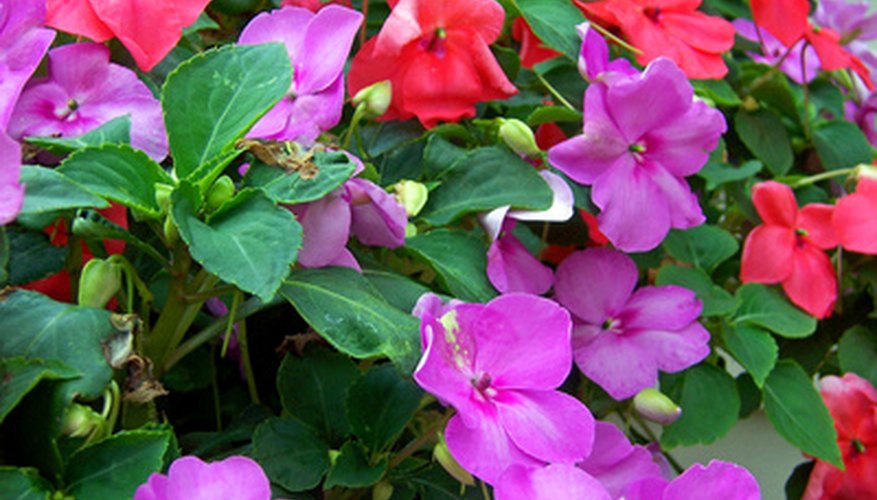 For home gardeners, bedding plants are flowering annuals that may be purchased in flats and planted in groupings to inexpensively create dramatic bursts of seasonal color. Commercial growers like bedding plants because they can be planted and grown uniformly and all at the same time, which minimizes costs of production. The five top-selling bedding plants bring cheer to the gardener as well as cash to the market grower.
Impatiens
The Alabama Cooperative Extension and University of Vermont Extension Service report that impatiens (Impatiens spp.) is the top-selling bedding plant in the United States. The genus includes nearly 1,000 species, but only three, I. walleriana, I. balsamina and I. hawkerina or "New Guinea" impatiens, are commonly grown as commercial bedding plants. Bedding impatiens bear a profusion of single or double flowers in shades of white, lavender, salmon and pink. They prefer moist, shady conditions.
Petunia
The bedding varieties of the genus petunia (Petunia X hybrida) bloom in the cooler seasons of early summer and early fall, making them ideal market plants for the two ends of the season, according to the Alabama Cooperative Extension. The Oklahoma Cooperative Extension adds that petunias also make good potted plants. Petunias are most noted for their riotous and rapidly expanding range of brilliant colors, and their tolerance for cool weather and partial shade.
Geraniums
Geraniums are popular flowering members of the genus Pelargonium, which includes the wild cranesbills, as well as the red and pink flowering bedding plants. The Alabama Cooperative Extension notes that bedding geraniums can be started by seed or by cuttings.
Marigolds
The common garden marigold (Tagates petula) is a top-selling bedding plant, with single and double varieties in color ranges from pale yellow to gold, orange, scarlet and burgundy. The Alabama Cooperative Extension suggests that market growers also offer the pot marigold (Calendula officianalis), which is heat and drought tolerant and available in an increasing range of shades including pinks and salmons, as well as the African marigold (Tagates erecta) which is more cold-tolerant, to expand the growing and selling season.
Pansies
Pansies (Viola tricolor or Viola X witrockiana) are garden plants that thrive in the shade as well as in pots and window boxes. The Alabama Cooperative Extension recommends planting them, together with their smaller cousins, the Johnny Jump Ups, in fall for the earliest spring color. Pansies are known for their cheery "faces" and wide range of rich, deep colors.