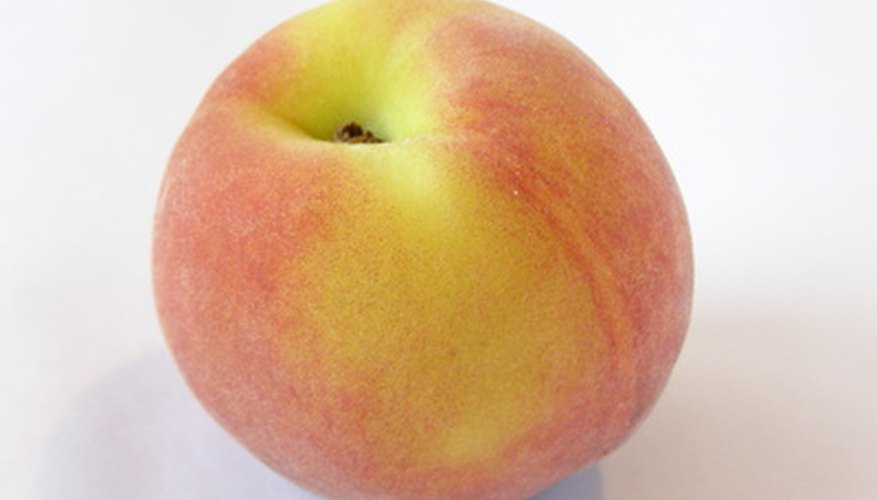 Peach trees (Prunus persica) are a member of the stone-fruit family, and are appropriate to grow in Kansas, as most varieties need between 600-900 hours of chill time for the fruit to properly set. Kansas, which is in U.S. Department of Agriculture Zones 5b and 6a, may experience winter temperatures as low as -15 degrees F and have enough hours of temperatures below 45 degrees for fruit to set. Most peaches ripen for harvest between June and September.
Peach trees generally begin bearing fruit at three to four years, and peak production is reached between eight and 12 years. The trees are usually self-pollinating, but may be planted in pairs to increase yield. In general, peach trees should be planted in full sun and get regular water. Most varieties are adaptable to a range of soil conditions.
Elberta
Among the most flavorful peaches available, Elberta peach trees are native to Georgia and produce a medium to large fruit with yellow skin tinged with red. The flesh is firm and yellow. Elberta peaches require 750 hours of chill time.
Elberta peaches are mid-season producers that are disease resistant and should be planted in pairs to encourage cross-pollination. Elbertas may be cross-pollinated with Red Havens to increase yield.
This variety is also available in an early producer, called the Early Elberta, which is ready for harvest about a week early and requires less chill and heat. It is also available in a dwarf variety.
Madison
The Madison peach tree is a good selection for any part of Kansas, and produces a medium-sized fruit with yellow skin that has a hint of red. The flesh is golden yellow and firm. Madison peaches are hardier than many other varieties and have some frost tolerance, even after flowers bloom. These trees are heavy producers and fruit is usually ready to harvest in late August.
Madison peaches require 850 chill hours.
Red Haven
Red haven peaches may be grown in nearly every region of the U.S. with the exception of Montana, North Dakota and Minnesota, and this hardy tree produces peaches that are consistently sweet and firm. These trees, which can grow to 15 feet, may be planted with Elbertas, so the two can cross-pollinate and produce better harvests.
Redhavens produce a medium-sized fruit that has yellow skin with red blush and yellow flesh. The trees require pruning to encourage growth and fruit production. Redhavens usually ripen in early August and require 950 chill hours.