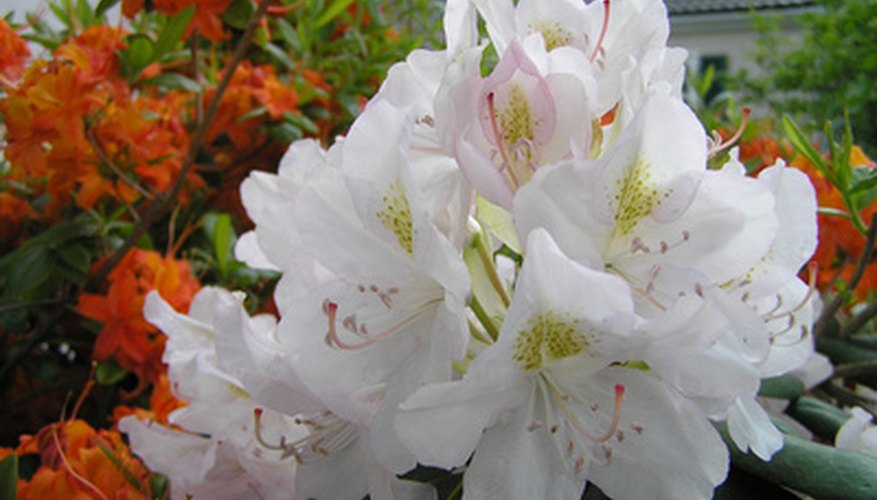 Some plants prefer alkaline soil and some prefer acidic soil. Gardeners don't have to force their soil to be overly acidic or alkaline, as there are many plants that will tolerate and thrive in one or the other. Gardeners that have naturally acidic soil are in for a treat, as many beautiful flowering plants flourish in rich acidic soil.
Sweet Pepperbush
Sweet pepperbush (Clethra alnifolia), also called Summersweet, is a deciduous shrub that bursts into bloom in mid to late summer with eye catching white blooms. The blooms have a strong, sweet fragrance that attracts butterflies and bees. Reaching heights of 3 feet and above, sweet pepperbush is often used as a border plant or as an overgrown hedge. Sweet pepperbush grows the best in full sun or partial shade, in average or acidic soils. Soil should be moist but not sopping wet. In the fall, the green leaves of the sweet pepperbush turn a beautiful golden yellow.
Ixora coccinea
Native to tropical Southeast Asia, Ixora coccinea is an evergreen shrub that's commonly grown in warm regions of the United States. Cherished for its rich green foliage and creamy yellow blooms, Ixora coccinea is a popular ornamental plant that reaches heights of between 4 and 6 feet. The plant thrives in acidic soil and should be fertilized with high nitrogen fertilizer. Ixora coccinea will do best with full sun during the morning and a little shade in the hot afternoon.
Chapman's Rhododendron
Chapman's rhododendron (Rhododendron chapmanii) is an evergreen shrub that's native exclusively to Florida. Reaching a maximum height of about 10 feet, the medium-sized shrub has attractive deep green foliage and clusters of pinkish white tubular blooms. Chapman's rhododendron, like most species of rhododendron, thrives in acidic soil. The soil should be moist but not soggy. Ideally, the plant prefers filtered sunlight or partial shade.