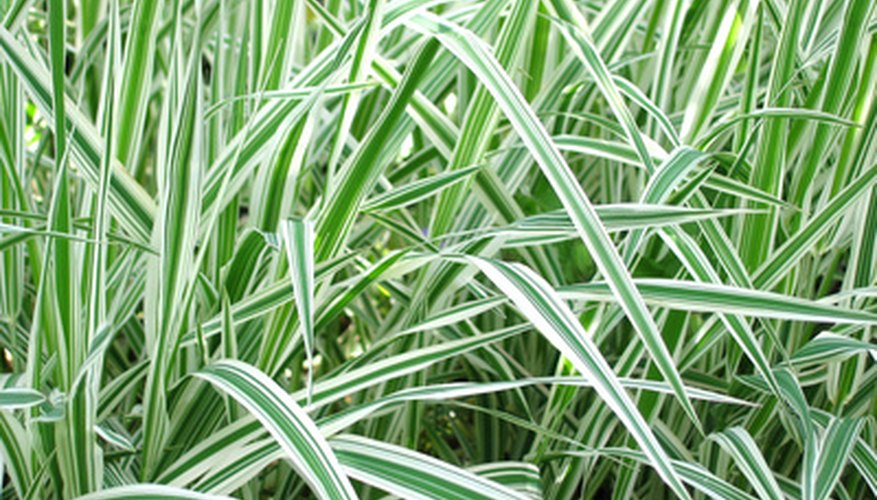 Tall ornamental grasses can be used as specimen or accent plants, in a mixed border or as a mass planting. Many colors and forms are available, as well as sizes. Most ornamental grasses grow best in full sun, but some will grow in partial to full shade.
Feather Reed Grass
The feathery seed heads of Calamagrostis brachytricha give it the common name, Feather Reed Grass. The seed heads begin as rose colored and mature to tan. Feather Reed Grass grows 3 to 4 feet tall and wide in a vase-shaped clump. It grows in shade, tolerates heavy and poorly drained soils, and is hardy in Zones 4 to 10 depending on the variety. 'Karl Foerester', a variety that grows 4 to 5 feet tall, has golden seed heads that turn ruby and then mature to tan. 'Overdam' has white variegation and does best in shade.
Maiden Grass
Numerous varieties of Maiden Grass (Miscanthus sinensis) are available with various colors, forms and heights. Most are clumping grasses that are hardy in Zones 4 to 10, and will grow in partial shade. 'Morning Light' has white margins on the foliage, red seed heads that mature to cream, and grows 3 to 4 feet tall. 'Variegatus' is a white-striped variety that grows 5 feet tall. 'Gracillimus' has a silvery white midrib and grows 6 feet tall. 'Zebrinus' grows 7 feet tall and has golden horizontal bands.
Northern Sea Oats
The long drooping panicles of green spikelets on Northern Sea Oats shimmer as they move in a breeze. The spikelets turn reddish-bronze as they mature in late summer. Northern Sea Oats grow 4 feet tall and 2 feet wide in an arching to upright clump. Although it prefers sun, it tolerates shade and grows taller in shady areas. It is hardy in Zones 5 to 9.
Switch Grass
Switch Grass (Panicum virgatum) forms mounded or arching clumps, and grows in Zones 5 to 9. Delicate purplish panicles emerge in summer and mature to beige. Switch Grass grows in dry to moist well-drained soil. It prefers sun but will grow in shade. The varieties of Switch Grass vary in size. 'Shenandoah' grows 4 feet tall and 2 feet wide; 'Northwind' grows 5 feet tall and 3 feet wide; and 'Cloud Nine' grows 8 feet tall and 5 feet wide.