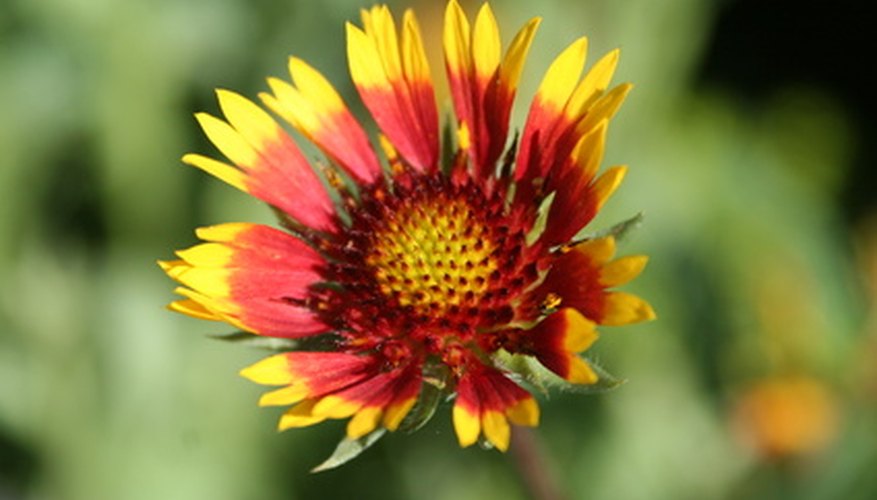 Just because the landscape is loaded with sandy soil does not mean your garden can't be filled with bright perennial flowers and vibrant shrubs. In fact, many plant varieties tolerate and thrive in highly porous, low-moisture sandy soils found along lakes and rivers. Amending the sandy soil with nutrient-rich compost and topsoil helps the plant to establish itself within the ground to create a long-lasting plant and showy display.
Japanese Barberry
Japanese Barberry (Berberis thunbergii) is a deciduous shrub with a moderate growth rate and medium to fine texture. With its ability to grow in a wide range of soil types, including sandy soil, Japanese barberry is a versatile shrub. Japanese barberry grows 3 to 6 feet tall and 4 to 7 feet wide. The rounded, dense shrub contains pale yellow flowers that emerge in spring. Fall brings bright red berries that persist through winter. The bright green leaves of the Japanese barberry grow more than 1 inch long and turn orange to red during fall. Drought-tolerant, Japanese barberry shrubs are easy to transplant and work well planted as a barrier screen for a backyard patio. Japanese barberry bushes require full sun to part shade to thrive. The USDA hardiness zones for planting are 5 to 8.
Blanket Flower
Grown for its summer-blooming daisy-like blooms, blanket flower (Gaillardia X grandiflora) is a perennial flower that thrives in sandy soil. Growing 12 to 36 inches tall, the bright red and yellow blooms of the blanket flower create a sea of color in a garden border or tucked into a container. Tolerant of heat and drought, blanket flowers are ideal fresh-cut flowers for summer arrangements. To promote a long blooming season, deadhead or remove spent blooms regularly. Blanket flower requires full sun and well-drained soil. Versatile, it tolerates poor soil varieties, including dry soils. The zones for planting are 2 to 10.
Gray Goldenrod
Gray goldenrod (Solidago nemoralis) is a perennial flower with a moderate growth rate and clumping habit. Thriving in sandy soils, goldenrod grows 1 to 3 feet tall and wide. Deer-, frost- and drought-tolerant, goldenrod attracts butterflies for a quintessential garden feel. The bright, draping yellow plumes of gray goldenrod are the ideal flower to grow as a ground cover for a bright late summer to fall display. The gray to green leaves of gray goldenrod grow in clumps to contrast with the bright blooms. Gray goldenrod requires full sun to part shade and well-drained, moderately fertile soil. It grows best in zones 2 to 9.