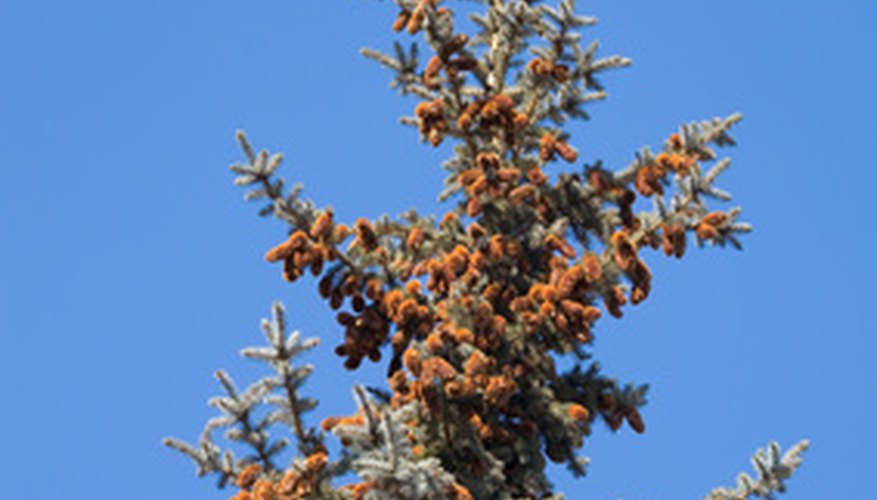 Colorado blue spruce (Picea pungens) is a dense evergreen conifer. The blue-colored needles are sharply pointed and the light brown cones are 2 to 4 inches long. Blue spruce trees grow 30 to 80 feet tall and spread 15 to 25 feet wide. This conifer prefers moist, good-draining soil. Colorado blue spruce survives winter cold down to minus-50 degrees Fahrenheit. This spruce is used for windbreaks, bird habitat, fast-burning firewood, Christmas trees and ornamental landscape trees.
Plant your Colorado blue spruce tree in the early fall or early spring. The root system on this tree is a shallow, spreading type, so you can successfully transplant even large trees in areas that receive full sunlight exposure.
Water the Colorado blue spruce tree for the first year after it is planted. Slowly pour two to three buckets full of water over the root area every two weeks throughout the growing season. Adjust the watering schedule according to the rain. If the weather is rainy, cut back on the water supply.
Spread 4 to 8 inches of sawdust mulch around the base of the tree in spring. Maintain the mulch throughout the summer to conserve moisture in the soil.
Spread slow-release fertilizer around the Colorado blue spruce in the early spring before the annual growth begins. Keep the fertilizer 6 inches away from the tree trunk. Scratch the fertilizer into the soil under the branches with a rake. Water the area thoroughly to start working the fertilizer down toward the roots.
Prune the tips of the branches with sharp pruning shears in the spring while the Colorado blue spruce is still young. This encourages new branch growth and density. Trimming the spruce tree lets you slowly alter the shape of the tree if you notice it is growing irregularly. Once Colorado blue spruce trees are 5 to 10 years old, do not prune any more unless absolutely necessary.
Things You Will Need
Water

Buckets

Sawdust

Fertilizer

Rake

Pruning shears
Tip
Colorado blue spruce needles are extremely sharp and have been known to pierce skin. Use leather gardening gloves to protect your hands and wear a long-sleeved, heavy-duty shirt to save your arms from scratches.
Warning
Colorado blue spruce trees cannot tolerate standing water or prolonged flooding. They like moist sites, but will tolerate some dry spells. The Colorado blue spruce is the most tolerant of drought conditions of all the varieties of spruce trees.