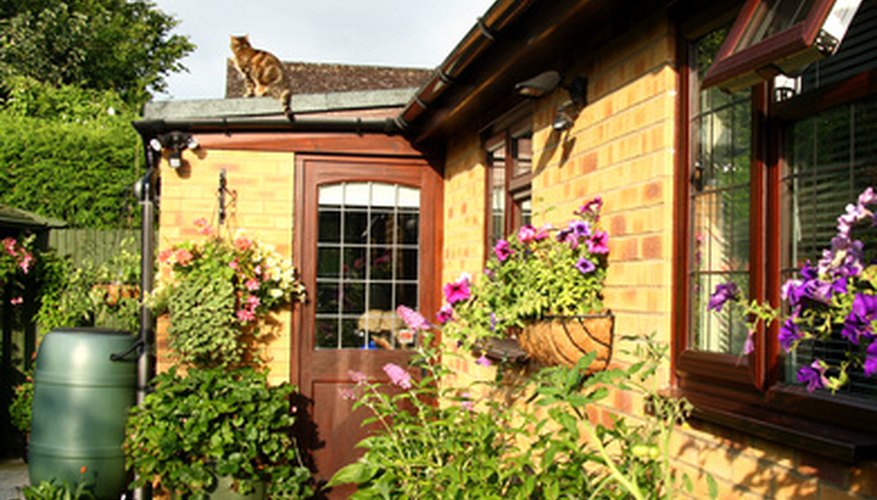 Planters in a yard divide one outdoor area from another, provide privacy and screen unattractive views. Planters with wide edges add extra seating areas to a patio or around a pool. Small planters add a jolt of color to an entry way or a focal point in a garden. Take care in arranging planters to provide a pleasing outdoor display.
Fill the planter with new potting soil to get the plants off to the best possible start. If the planter is very deep, say more than 36 inches, fill it to within 18 inches of the top with styrofoam peanuts or other packing material. Add three layers of cheesecloth, or landscape cloth, to keep the soil from filtering down into the packing material. Fill with soil.
Fill permanent planters in the yard with garden dirt mixed with equal parts potting soil and compost. Add slow release fertilizer per package directions. Think of the planter as a raised garden bed. The better the soil is, the more the plants will thrive. Water until all the soil in the planter is soaked through.
Select a variety of plants that will thrive in the light the planter receives. If the planter is in the shade, choose shade-loving plants. If it's in the sun, pick sun-loving plants. Some planters look good with just one variety of plant, such as cyprus. The problem is if one of the plants dies, it will be replaced with the same type of plant that is most likely smaller. That small plant will look odd and throw off the symmetry of the planter.
Arrange the plants. Place the tallest plant(s) in the middle of the planter. On either side, put the next tallest plants. Finish with ivy, bacoba, alyssum or trailing geranium to drape over and soften the edges of the planter. When you're pleased with the arrangement, plant them in the planter.
Place boxwood around the perimeter and fill the inside with seasonal flowers, such as spring bulbs, followed by petunias in the summer and chrysanthemums in the fall. Trim the boxwood so it's flush with the sides of the planter and below the blooming flowers.
Select bushes and shrubs that grow tall enough to act as a screen if the planter is to provide privacy. Place them in the back of the planter and edge with low growing flowers such as pansies or lobelia. Another alternative is to attach lattice work to the back of the planter and plant vines such as clematis, honeysuckle or jasmine. Plant annuals that vine, such as black-eyed Susan vine, hyacinth bean or sweet peas to cover the lattice work until the perennial vines grow tall enough.