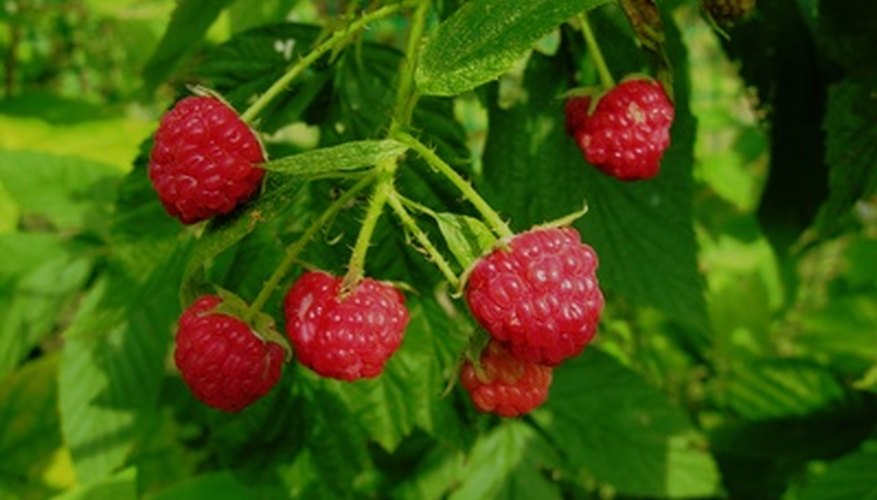 A number of herbicides are registered for use in raspberries, a member of the Rubus family of plants that also include blackberries. These are called caneberries. Weeds need to be kept out of raspberries in the first year so the canes can receive available water and nutrients. Weeds are not as troublesome within the rows of established plants.
Paraquat
The Ohio Ministry of Agriculture, Food and Rural affairs recommends applying 2 2/3 quarts of herbicide containing paraquat in 106 gallons of water per acre in the spring before new shoots emerge. Spray directly at the base of canes. For spot spraying apply a tenth of a pint to 2 2/3 gallons of water.
Paraquat plus Simazine
To kill both emerged and germinating weeds, the Ontario Ministry recommends applying 2 1/3 quarts of an herbicide containing paraquat plus 2 lb. of herbicide containing the active ingredient simazine per acre. Spray directly on established plantings but not on young raspberry shoots. Use lower rates for sandy soil and higher rates for clay soil.
Glufosinate Ammonium
To suppress newly emerged weeds and control the growth of unwanted new canes, the Ohio Ministry recommends applying 2 8/10 quarts of herbicide containing glufosinate ammonium in 35 gallons of water per acre. Apply when the canes are 4 to 8 inches tall. Avoid letting glufosinate drift onto canes that are producing fruit.
Cornell University plant scientists recommend glufosinate before you plant raspberries because the chemical can spread from the roots of plants that were killed. Once established, weeds are difficult to control Cornell recommends using a wick applicator to treat problem weeds with glyphosate because the herbicide can kill a cane plus the roots of the cane that is touched. If weeds still wet with glyphosate blow into mature canes, it will kill them.
Dichlobenil
Farmnfo.com recommends using 2 to 4 lb. of herbicide containing Dichlobenil per acre to kill quackgrass and annual weeds. Do not use more than 4 lb. per acre.
Sethoxydim
Horticulturalists at Cornell University recommend applying up to 3 lb. of herbicide containing the active ingredient Sethoxydim per acre to control grass. Do not use within 45 days of harvesting berries.
Napropamide
Cornell University horticulturalists recommend herbicides containing napropamide to eliminate germinating weed seeds. Check the product label for application rates.