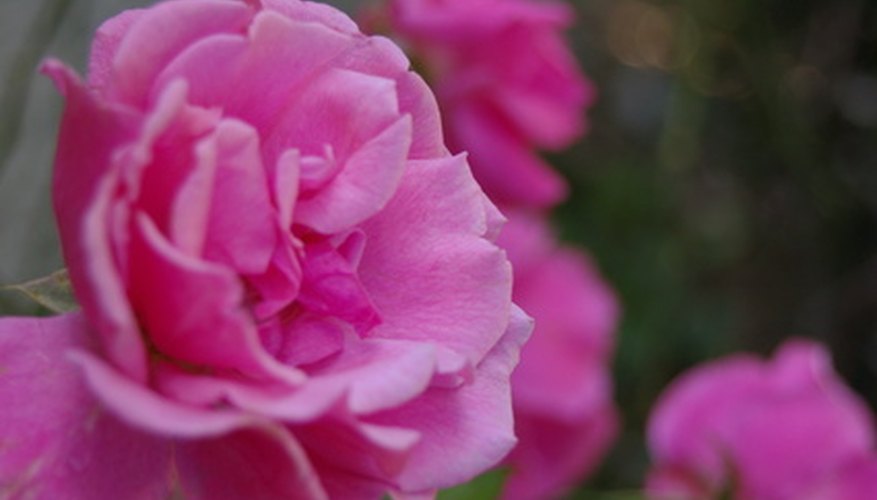 Knock Out roses are a brand of trademarked shrubs roses developed by the Conrad Pyle Company that has a variety of cultivars, in bright warm colors and either single or double petal formations. This family of roses is known for their cold and heat tolerance and are winter hardy down to USDA zone 5. Autumn care includes keeping up with basic cultural practices and applying winterizing techniques to protect the rose shrubs in good health until spring.
Water your Knock Out rose shrubs liberally in the autumn before the first hard frost to allow the soil and roots to become well hydrated, before winter temperatures come.
Refrain from fertilizing your roses in the fall to prevent new growth from developing that may be killed over the winter months to come. Make the last fertilizer application in the late summer for the cooler climates of USDA Zone 7 and below, and in early fall for temperate and warm climates with late onset frosts or no heavy frosts to speak of.
Clear away all dropped petals, cane clippings, weeds, leaves or other debris that has settled on the soil under and around your roses. Debris on the soil serves as a breeding ground for insects and disease over the winter and should be cleared in the autumn.
Mulch over a clear soil surface with an organic mulching material that allows some fresh air circulation such as pine needles, fine wood chips or straw. Lay down a 3 to 4-inch thick blanket around the roses. Mound the mulch around and over the crown of the rose in colder climates where the roses are hardy, USDA zone 7 and below, to protect crown from winter cold and wind.