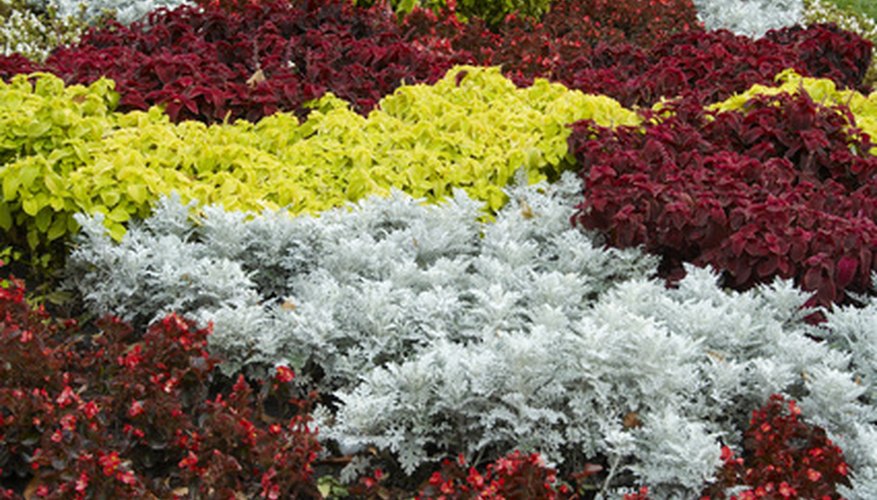 Flowers enhance the landscape with color and scent. Plopping a few plants in a container without too much thought works on patios and balconies. However, adding a cutting garden, border or island bed to your backyard requires planning.
Decide where you want the flower bed located. A bed in the shade requires different flowers than a sunny bed. Dappled shade under a limbed up tree accommodates both types of plants. Charlie Ryrie the author of "The Country Garden" suggests lady's mantle, lily of the valley and foxglove for dappled shade. Plant the shade lovers in deeper shade closer to the tree trunk.
Choose the colors for the bed. Flowers come in all colors, but not all flowers bloom in every color. If you have your heart set on a blue and white bed, you won't be able to include blue roses because they don't exist. Flower beds that stay within a color palette, say all pastels, are more restful than beds that are a jumble of colors. Red, yellow and orange flowers appear closer than they are, while blue, purple and white flowers recede.
Combine annuals, perennials and evergreens for season long interest. Evergreens stay green all year round and provide some color even in winter. They act as the backbone of the bed. Perennials bloom profusely for a short time from two to six weeks. The plant may remain green until winter sets in or it may go dormant shortly after blooming. Annuals bloom all season long, but die in the winter and must be replanted the following year. Perennials bloom for a number of years and don't have to be replanted. Combine the three types of plants for color in all four seasons.
Consider the hardiness zone where you live (http://www.usna.usda.gov/Hardzone/ushzmap.html) before you choose plants. Roses, for example, are not hardy in all zones, which means if you live in Zones 1 through 3 you won't have much success with roses. Some plants, like hibiscus, are subtropical and don't tolerate much, if any, frost. On the other hand, plants like lilacs and forsythia need a chilling period to bloom.
Consider the shape and height of the plant as well as its leaves and flowers. A flower bed where every flower is the same height is not as interesting as a bed that has contrasting plant shapes and leaves. Daylilies have long, strappy leaves and trumpet-shaped flowers which contrast nicely with the round flowers and fern-like leaves of Shasta daisies.
Place the plants in the bed so each receives a good dose of sunlight. This means tall flowers like foxglove and delphiniums in the back of the bed, roses in the middle, marigolds in the front and an edging of alyssum. Don't let taller plants block the light from shorter plants. Put tall flowers in the middle of island beds and surround them with flowers that get shorter toward the perimeter of the bed.
Tip
Move plants around in the flower bed while they are still in the nursery containers to come up with an arrangement you like.
Resources