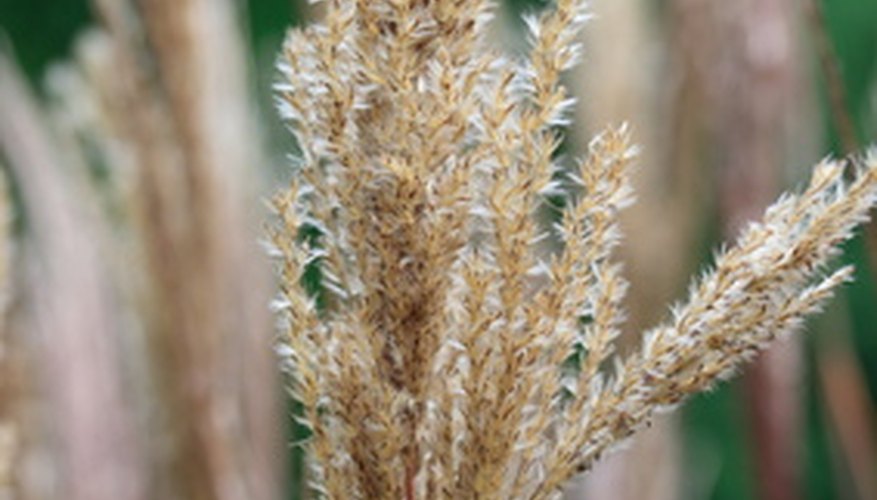 Big ornamental grasses add texture and form to gardens and landscapes that need vertical design elements or interesting focal points. The grasses also work well as a backdrop for smaller plants. A variety of ornamental grasses grow to great heights, making them even more noticeable. The grasses help control erosion, and their drought-tolerance helps reduce summer watering and maintenance.
Description
Tall ornamental grasses grow upright to at least 5 feet in height, with some growing to 10 feet or more. All grasses feature long leaves and stems on which flower heads or seed heads grow. Each grass has its unique attributes when it comes to the color, shape and size of the leaves, stems and flower heads.
Types
Ornamental grasses fall into one of two types: cool season and warm season. Cool season grasses start growing in early spring and grow best when the weather stays cool. Warm season grasses start growing once the weather and soil warms up, thriving in hot weather, even with limited moisture.
Varieties
A variety of native plants work well as large ornamental grasses including big bluestem (Andropogon gerardii) and switchgrass (Panicum virgatum). Both of these grasses fall into the tall-grass prairie varieties, with big bluestem growing to 6 feet in height and featuring blue-green leaves that turn red and purple in the fall. Switchgrass grows to 5 feet tall with purplish flower heads that appear in the early fall. The grass turns yellow in the fall. Other big grasses include giant reed grass, which can reach 10 feet tall. Pampas grass (Cortaderia selloana) grows to 10 feet or more in height, featuring large showy plumes that last for months.
Planting
Ornamental grasses grow best when organic matter is added to the soil before planting. Choose a site that receives plenty of sun and has good drainage. The plants require a thorough watering after planting with regular watering during the first year. You may plant in the spring or fall, although planting grasses in the spring gives the plants time to develop strong root systems. If you plant during the fall, put down a light covering of straw to protect the plants during the first winter. After a few hard frosts occur, the area also benefits from a layer of mulch.
Care
Ornamental grasses require little fertilizer; too much will lead to the plants falling over and drooping. Apply 1/4 cup of 10-10-10 fertilizer in the spring when new growth appears. A slow-release fertilizer covers the plant's requirements through the growing season. Established grasses do not require regular watering since they tend to be drought-resistant. In the spring, established plants may need dividing to clean out dead areas and to improve the appearance of the plant.
Resources