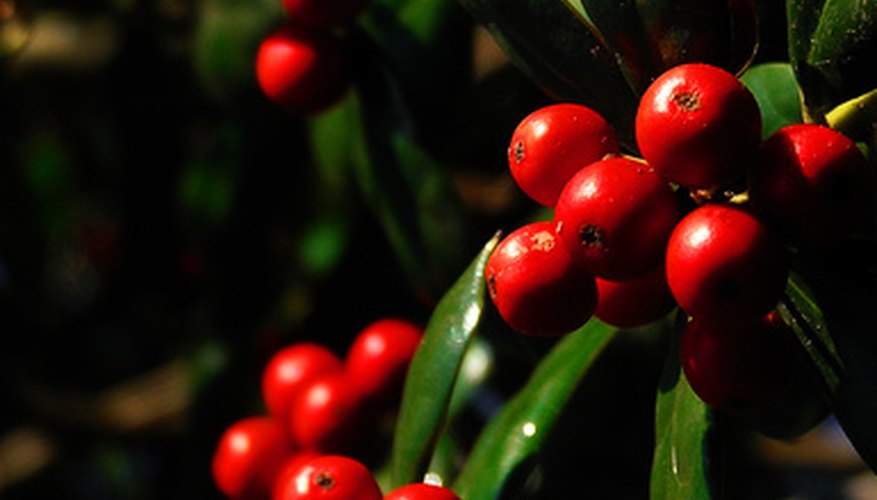 Evergreen shrubs come in all sizes: from dwarf, under 1 foot tall, to tree-like, reaching 15 feet and more. Evergreen shrubs produce sweet, juicy berries that make up the diet for songbirds, and flowers full of nectar that attract hummingbirds. Certain species of evergreens also provide a home for nesting birds.
Nellie Stevens Holly
Nellie Stevens holly (Ilex x "Nellie R. Stevens") grows from 15 to 25 feet tall with a pyramid shape. The shrub produces thick leaves with the toothed edges of the plants in the holly family. The plant is always female and is pollinated by males of other species. Plant Nellie Stevens holly in full sun or partial shade and a soil that is moist to dry. Cedar waxwings, mockingbirds, robins, woodpeckers and other species make their nests in the shrub and use the berries for food. The plant is hardy in USDA zones 6 through 9.
Golden Dewdrop
Golden dewdrop (Duranta erecta) is also known as pigeonberry and skyflower and is a member of the verbena family. The plant is a shrub or small tree growing up to 18 feet tall and about the same in width with branches that droop and touch the ground. The shrub produces oval-shaped leaves that grow from 1 to 3 inches long. The light blue, purple or violet trumpet-shaped flowers bloom throughout the year, growing in clusters up to 6 inches long. The yellow fruit appears while flowers are still on the plant and grow in long, hanging bunches. Plant golden dewdrop in full sun and a moist soil. Hummingbirds and butterflies will come for the nectar and songbirds for the fruit. The plant is hardy in USDA zones 9 through 11.
Leatherleaf Viburnum
Leatherleaf viburnum (Viburnum rhytidophyllum) is a member of the honeysuckle family. The shrub grows from 8 to 15 feet tall in an upright, domed shape. The plant produces leaves that grow from 3 to 6 inches long and 2 inches wide. The tiny white-yellow flowers bloom in the spring, growing in thick 6-to-8-inch wide clusters at the tips of the stems. The flowers are followed by berries that start out red and turn a shiny black as they mature. Plant leatherleaf viburnum in partial shade and a moist soil. Songbirds will come for the fruit in the fall and winter. The plant is hardy in USDA zones 6 through 8.