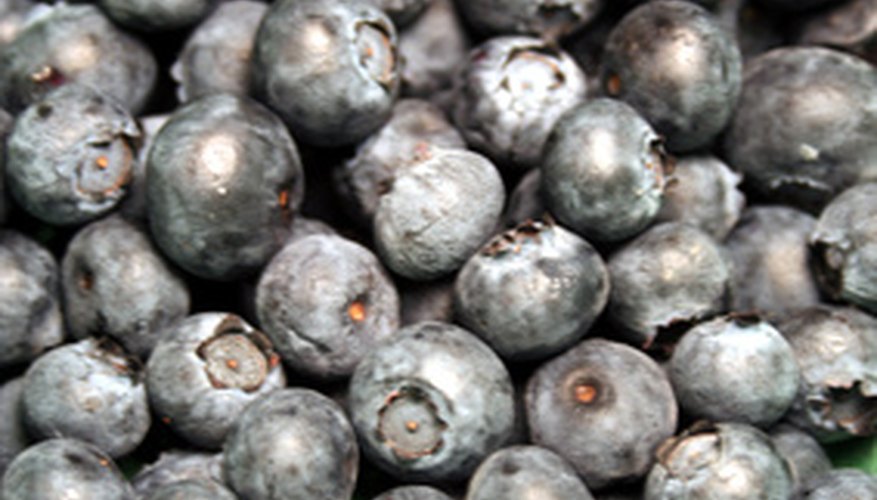 Blueberries are deciduous perennials that thrive in acidic, well-draining soil, and some dwarf varieties may be grown in Texas. Many areas of East Texas have naturally acidic soil, but in the rest of the state it may be necessary to amend soil to get a pH level that is between 4.0 and 5.5. These plants prefer sandy, loamy soil, require full sun and should be kept moist, but not wet.
Rabbiteye and highbush blueberry varieties may be grown in Texas, and dwarf cultivars of both are available. According the U.S. Department of Agriculture Plant Hardiness Zone Map, Texas encompasses Zones 6 to 9.
Northblue
The Northblue cultivar (Vaccinium corymbosum x V. angustifolium) is a dwarf highbush blueberry that is suitable for Zones 3 to 7 and can grow in the Panhandle, as well as in the central part of Texas. This plant can grow to 30 inches, has dark elliptical leaves and produces white blossoms in May before bearing fruit. The berries are large, dark and juicy, and are considered excellent for eating off the bush. The foliage ages to crimson in the fall.
The Northblue cultivar should be planted in full sun and requires regular watering.
Sunshine Blue
The Sunshine Blue cultivar is a dwarf highbush blueberry (V. corymbosum) that grows to four feet and is hardy in Zones 5 to 9, making it a good choice for just about any part of Texas. This plant has silver-green elliptical leaves and produces a pink blossom in spring before giving way to fruit in summer. The Sunshine Blue bears sweet, juicy berries with low acidity, and the foliage ages to purple-red in fall.
These bushes should be planted in full sun, and are tolerant of less acidic soil than most other blueberry plants.
Top Hat
The Top Hat cultivar (Vaccinium x Top Hat) is a dwarf Rabbiteye blueberry bush that is hardy in Zones 4 to 8, and may be grown in nearly all of Texas except for the most southern region. These plants grow to 24 inches, have dark elliptical leaves and produce white flowers in spring, before producing berries in summer. This cultivar was developed at Michigan State University and was named for its neat and compact growth pattern.
The Top Hat cultivar produces fruit one to three years after planting and fruit may be used for eating, for baking or in jams. Top Hat blueberries may be planted in full sun to partial shade.