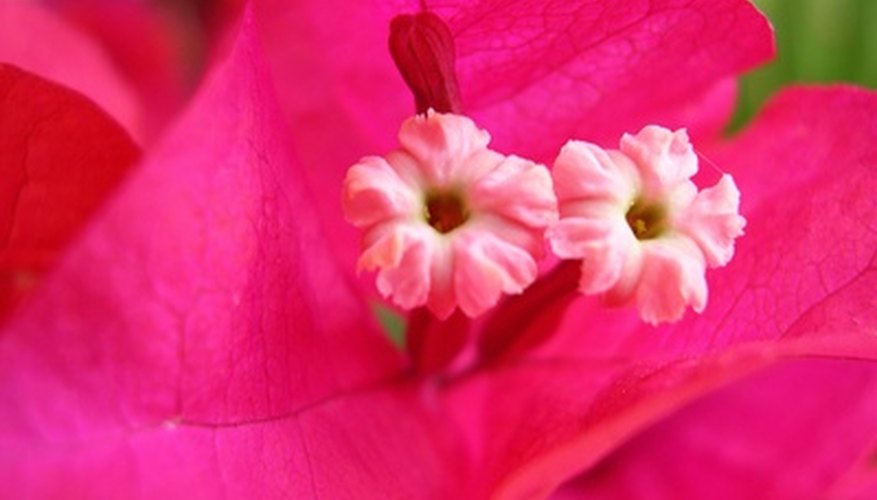 Bougainvillea is a hardy, heat-loving climber with abundant, brilliantly colored flowers. These evergreen plants prefer full sun and aren't frost-tolerant, so they are suited to USDA 9 and 10. Bougainvillea can be trained to spread, with some shorter, bushier varieties that are used as ground cover or container plants. The flowers on most bougainvillea plants are actually tiny white blooms at the center of three-colored bracts. These bracts come in a rainbow of hues.
Pink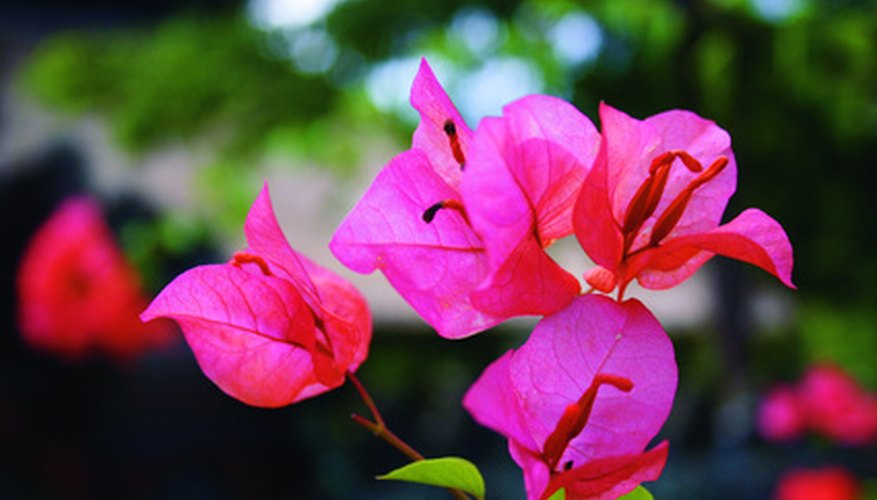 The most common bougainvillea varieties are pink, with dark leaves and fuchsia blooms. "Pink Pixie" and "La Jolla" are small, bushy varieties that can be potted and shaped. "Vera Purple" has darker, purplish bracts and often blooms most of the year. "Crimson Glow" is a pink variety with dramatic narrow, pointed blooms. All bougainvillea plants have thorny vines, but "Torch Glow" is one of the least thorny cultivars, with clusters of bright, pointy blooms at the ends of the vines.
Red
With crimson bracts and variegated white and green foliage, "Raspberry Ice" is the most frost-tolerant kind of bougainvillea, capable of growing back lost vines if its root system is strong. "Rosenka" is a shrubby plant, with wide, dark orange bracts. A tall, vining bougainvillea is "Barbara Karst" with thorny vines that reach heights up to 20 feet.
Yellow
Yellow bougainvillea blooms are usually a deep golden color. They have very thorny vines and don't like being moved or repotted. "California Gold" is large climbing plant with long-lasting blooms that can grow over 30 feet tall and 15 feet wide. "Superstition Gold" is smaller, usually 15 feet tall and wide. "Vickie" has lighter yellow blooms and variegated light green and white foliage.
White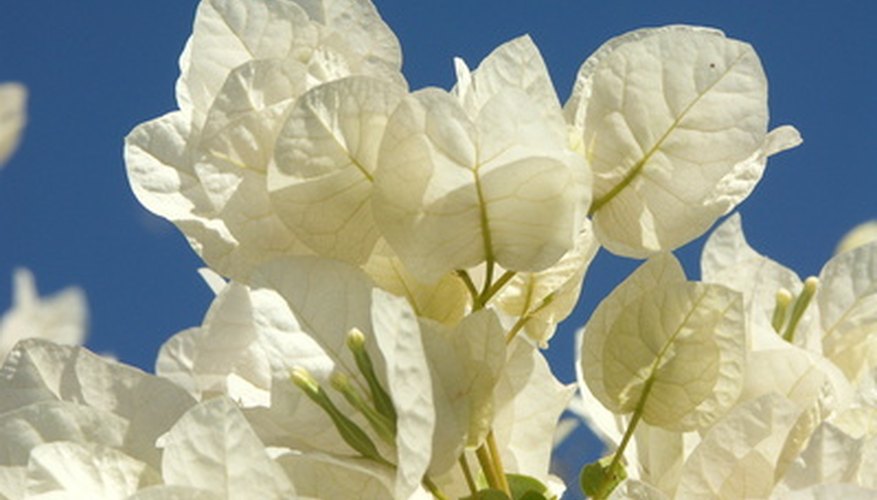 Although not as common as its showier cousins, white bougainvillea is stunning with its papery blooms and deep green leaves. "Jamaica White" grows quickly, with green veins lining its white bracts. "Madonna" is a small, shrubby cultivar, with round, lobed blooms that makes a good container plant.
Variegated Blooms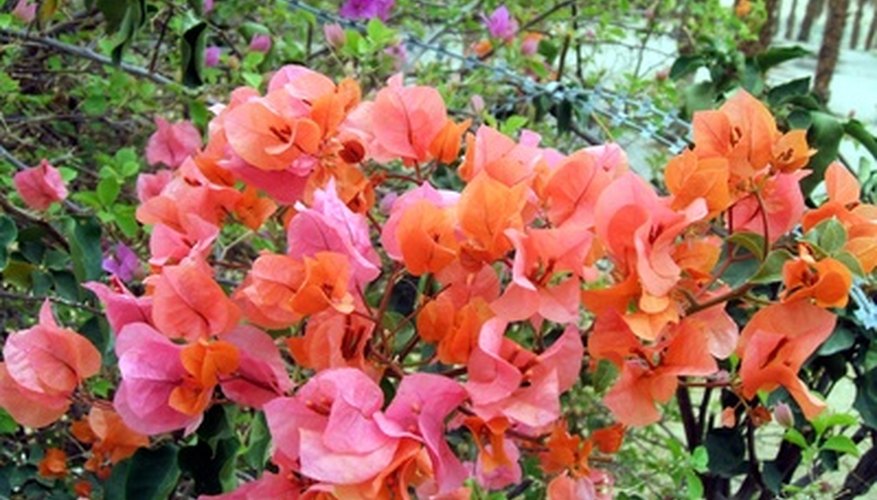 Variegated bougainvillea are eye-catching plants that explode in abundant, multicolored blooms. "Golden Ice" and "Temple Fire" have stunning pink, orange, and peach flowers. "Temple Fire" is the smaller variety, and grows well as a shrub. "Surprise" blooms easily, with pink and white flowers.