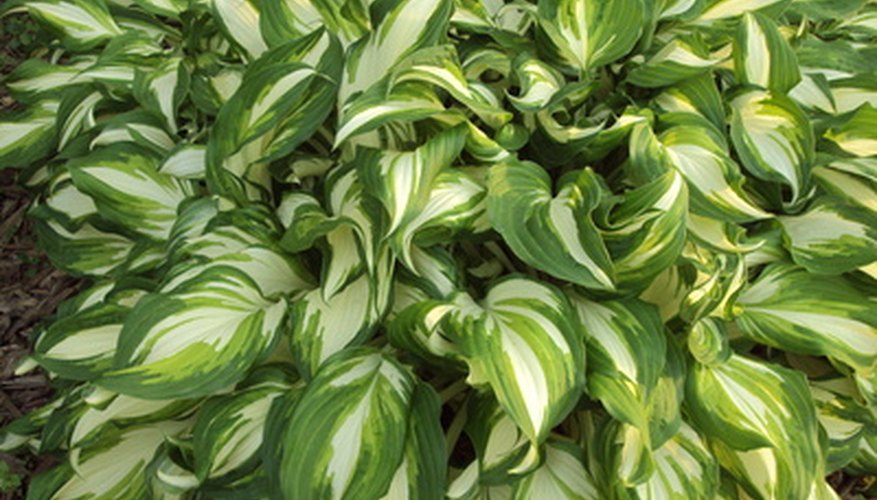 Hostas, like daylilies, were once almost forgotten by gardeners. These shade-loving perennials, natives of Asia, were grown in Victorian gardens. Due to the work of hobbyists and breeders like Paul Aden, gardeners "discovered" hostas in the 1960s and the plants have gained steadily in popularity ever since. In the 1950s, however, garden hostas were limited to leftovers from grandmothers' gardens and a few "new" varieties.
1950s "Antiques"
Many hostas grown in 1950s gardens were already "old-fashioned" garden plants. H. Lancifolia, a small plant with long, plain, dark green leaves, was registered with the International Registration Authority for Hosta in 1888 and has lined sidewalks and border edges ever since. H. fortunei gigantea was registered in 1915. Many of the cultivars of hostas developed in the 1930s and 1940s were found in 1950s gardens or as groundcovers in shady places on large properties. Hosta bella, H. rohdeifolia, H. decorata and decorata normalis were registered in the late 1930s. H. nigrescens elatior, H. crispula, H. tokudama, two H. rectifolia varieties and several cultivars of H. montana appeared in the 1940s. Although many of these hostas faded from gardens because flowers were disappointing or foliage did not hold up to summer heat, many appeared in 1950s gardens as ancestral stock.
Classics
Originally native to China and Korea, the hosta gained popularity with Japanese and American breeders through the 1950s. American gardeners provided a market for hostas with superior foliage or flowers. Lancifolia's compact size and bushy growth had long since earned it a permanent place along shady borders. H. montana aureomarginata was prized for its variegated foliage. H. sieboldiana, the venerable "Seybold's hosta," provided several large, light-green leaved cultivars. H. plantaginea aphrodite became the "August Lily," so-called because of its white, late-summer blooms. One or more of these "classic" hostas could be found in shady gardens over most of North America except in the tropical South and desert Southwest.
Hostas of the 1950s
Working with existing lines, several new cultivars appeared during the 1950s. H. undulata univittata, a wavy-leaved hosta, appeared in 1954. The 1950s, though, belonged to H fortunei; seven named varieties appeared on the International Registration Authority for Hosta in 1954. By the end of the decade, gardeners were discovering hostas as groundcover and as specimens, trading "slips" of classic plants and experimenting with new H. undulata and "Fortune's hosta" varieties. H. fortunei, H. sieboldiana and H. plantaginea varieties became the antecedents of even more varieties in succeeding years. Today, many of these old varieties are being rediscovered, especially the graceful "August lily" which, unlike any other variety, blooms in the afternoon and perfumes the evening with its fragrance.