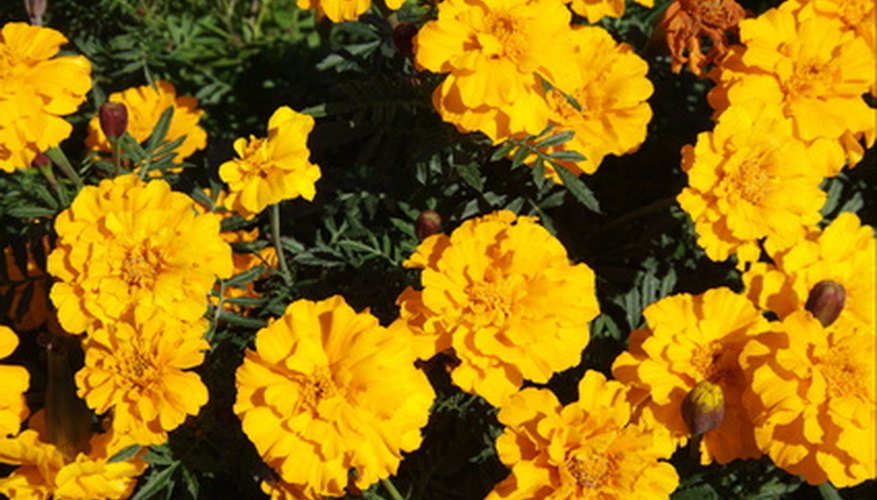 New Hampshire is located in the USDA hardiness growing zones 4 and 5, which means the average annual minimum temperatures recorded for this state from 1974 to 1986 were -30 degrees and -20 degrees F, respectively. There are many flowering annuals--plants that complete their life cycle in a year or less--that thrive in New Hampshire, and these provide numerous options for creating beautiful annual flower beds in this northern New England state.
Multitextured, One-Color Annuals
Growing a bed of annuals that are the same general color, but which vary wildly in their texture and shape can create a striking visual for your garden. It is also a chance to envelop yourself in your favorite color whenever you go to that part of your garden. Start by taking a look at a color wheel, which presents the primary colors, red, yellow and blue, with transitional colors between them, such as orange, violet and green. Of course, there are dozens of hues in between all of those. If you wanted to grow a bed of yellow annuals of various textures you might try combining a yellow species of a Tagetes (known as marigolds) such as a bushy 'Crackerjack' or 'Solar Series,' with a smooth golden-yellow evening primrose, and the 'Goldilocks' Gloriosa daisy, with its accented centers of dark brown-purple. These all grow in zones 4 and 5 and prefer full sun and well-drained soil. Mix flowers with the same needs into the same bed.
Low-Growing Bed
If you wish to grow a bed of flowering annuals that keeps a low profile--perhaps it is to grow below a window, for example--then annuals that stay under 12 inches high are best. 'Boy-O-Boy,' 'Orange Winner,' 'Cinnabar' and 'Safari Gem' marigolds are some of these, as are the 'Thumbelina Series,' 'Peter Pan Gold' and 'Belvedere' zinnias, and the Nemophilia maculata or five-spot. Bedding begonia, moss rose, and pansies also make great low-growing annual beds. These also work for edging, walkways and for growing in front of larger plants.
Fragrant Annual Flower Bed
For many, the garden is much more than the colorful delights for the eyes, but is also a gathering of scents. If your garden bed is near a walkway, patio or window, then it is the perfect place to plant something that smells wonderful. Sweet pea (Lathyrus), stock (Matthiola), heliotrope (Heliotropum) and mignonette (Reseda) are all annuals with strong fragrance. Sweet peas are especially cold-tolerant, which is always helpful in New Hampshire, and there are, according to the "Eyewitness Garden Handbooks: Annuals & Biennials Guide," 150 species of these showy flowers. Their color ranges from white to pink, red and purple, to cream and blue. Stock, heliotrope and mignonette are also cold-tolerant.