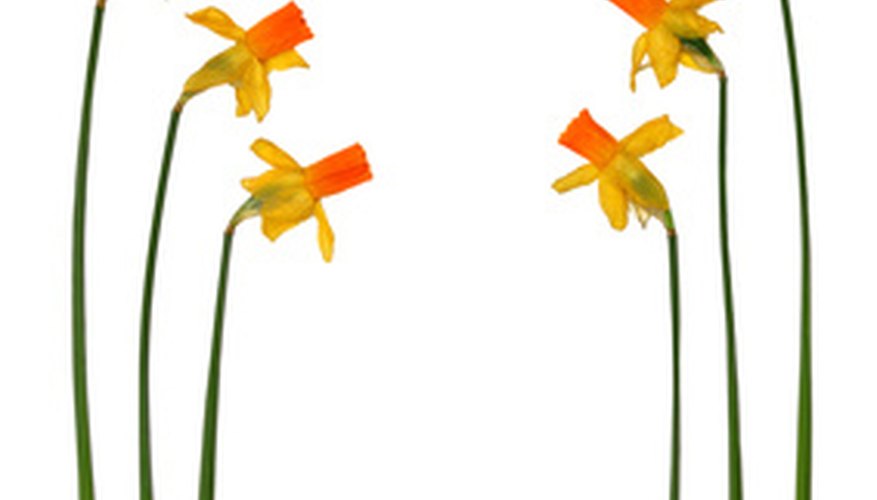 spring passes image by marilyn barbone from Fotolia.com
Scrapbooking has become a full-fledged industry with special scissors, papers, stencils and accessories. Scrapbook pages have become works of art. Dry flowers to commemorate a special occasion and incorporate them into your scrapbooking repertoire.
Choose flowers that are small and flat. Use the buds of bigger flowers rather than the flower itself. Scrapbooks have small pages, usually no more than 10 by 13 inches. Large flowers look out of proportion.
Think about the color the dried flower will be. Colors intensify when dried because the flower shrinks and the pigments are closer together. White flowers dry to beige. Red flowers dry to black. So instead of the dark red roses from a bride's bouquet, you would be better off choosing another flower.
Dry the flowers by placing the blossom with the stem completely removed in between the pages of a phone book. Weight with additional books. Place in a warm, dark place until the flowers are completely dry and flat.
Handle the flowers with tweezers or as gently as possible with your fingers. The petals are fragile when dry and tear easily. Store flat in a shoe box sectioned off for the different flowers. Place a note with the flowers stating where it was from and how you plan to use it for scrapbooking. Another alternative is to put the flowers in envelopes that have been labeled "John and Mary's wedding," "Trip to San Francisco" or by color.
Place the flowers on the scrapbook page and arrange until you're satisfied with the look. Use an acid-free glue, tacky glue or rubber cement to glue the flowers to the page. Most scrapbooking glues are acid free. Brush a bit of glue on the page and on the backs of the flower petals. Press the flower onto the paper. Tap gently with a cotton swap or pencil eraser.
Design a border of small pressed flowers for a baby scrapbook. Place larger flowers on the corners of the pages framing the birth announcement. If the new mother has received flowers, save a few to use on the pages.
Snip a few flowers from the bridesmaid's and bride's bouquet, with their permission of course. Dry and use to surround the wedding invitation.
Pick wild flowers, save flowers from a restaurant table or from the hotel's landscaping, all with permission of course, to remember a vacation. Place the flowers in water until you go home. If you have the space, bring along a phone book and start the pressing process immediately.
Things You Will Need
Flowers

Phone book

Shoebox

Envelopes

Scrapbooking glue

Cotton swaps
Tip
Make sure when picking wild flowers that it's legal. Some are protected species. In any event, never pick all the flowers from the plant.
Warning
Don't use a water-based glue. The flower will reabsorb the water from the glue and be prone to mold.
Resources