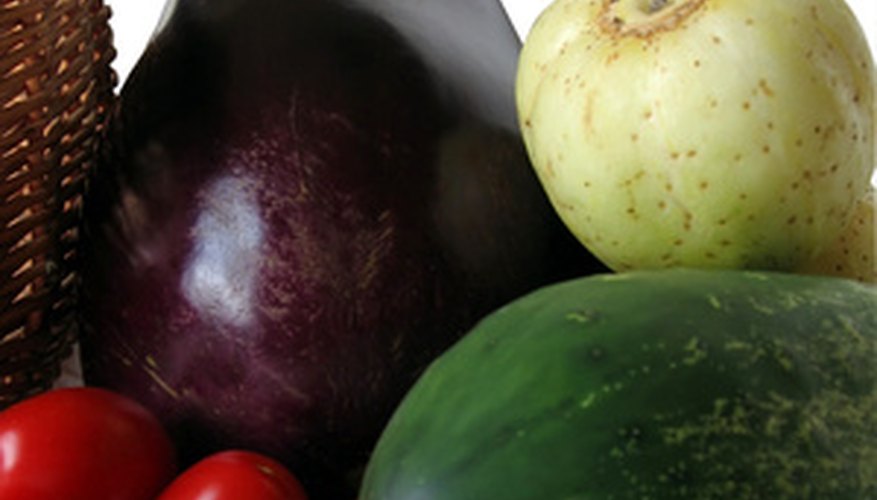 Home gardeners grow a variety of vegetable plants for cooking and canning. Garden vegetables require adequate amounts of soil nutrients, warmth, sunlight and moisture to thrive and grow. A layer of mulch in the garden helps plants retain moisture near their roots and helps hold in warmth during cool temperatures. Gardeners use various materials and ingredients for mulches. The best types of mulching materials help protect plants without causing damage to their health or structure.
Leaves
Dead leaves provide a natural layer of leaves over the roots of trees. Use these leaves around garden vegetables to control weeds. Recycle raked leaves from the previous autumn to use as inexpensive homegrown mulch. Leaves look natural in many landscaped areas, including vegetable gardens and planters. Pile about 2 to 3 inches of dried, compacted leaves over the soil containing vegetable roots.
Straw
A thick layer of straw mulch helps reduce the appearance of weeds in the vegetable garden. Decomposing straw increases the texture and nutrient levels in existing garden soils. This type of mulch provides warmth to root vegetables, extending their harvest. Avoid using old, contaminated straw that contains moldy or rotted sections. The minimal weight of this mulch makes it easy to transport and apply.
Woodchips
Mulches made from woodchips vary in texture, depending on the type of wood and the size of the chips. Small woodchips make good mulches in vegetable garden. These are inexpensive and attractive in gardens. Use large woodchips for walkways between vegetables to reduce muddy shoes during gardening chores.
Compost
A common type of mulch and fertilizer, compost improves soil in vegetable gardens. Many gardeners maintain their own compost heap, recycling leftover food items, grass clippings, sawdust and other items. These compost bins may harbor bacteria and insects if not properly maintained. Use commercially packaged compost to ensure sterile ingredients in your vegetable garden.
Plastic
Some gardeners use plastic sheeting to hold in warmth and moisture, while reducing weeds in vegetable gardens. Red plastic, the best type of plastic mulch, reflects sunlight onto nearby plants. Certain types of reflected light may enhance the size and flavor of vegetable produce. Plastic mulches decompose in time and require replacement. Place a layer of bark over exposed plastic mulch to slow down the rate of breakdown caused by sunlight on the plastic.