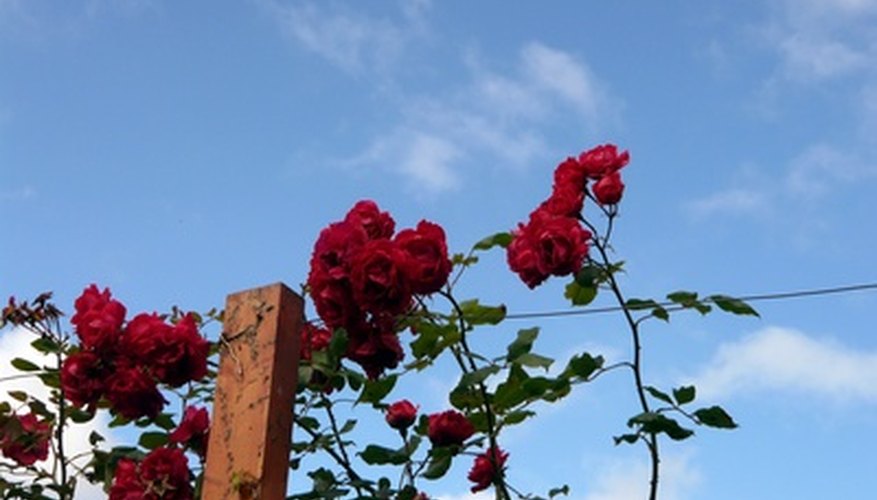 North Carolina gardeners love their roses, despite some of the challenges involved in growing them. The humid subtropical weather during the Mountain Region's summers requires extra care in the rose garden, such as repeated fungicide spraying and pruning to provide extra air-circulation. Additionally, in late summer, the Japanese beetle is a prevalent pest on western North Carolina roses. Despite these problems, roses are the most popular plant grown in the state.
Don Juan
If you are looking for romance in the garden, consider Don Juan. This is a highly fragrant red rose with a hybrid tea shape that blooms repeatedly from early spring to late summer. It will grow in a wide range of soil textures and prefers a soil pH of 5.5 to 7.5. Prone to mildew, the humid summers in western North Carolina may present a challenge for the gardener. Preventive measures include keeping the Don Juan well watered on hot days and not getting water on the leaves. Fungicidal soap will help manage any fungal problems with Don Juan. Trained on a white trellis or a sunny wall, Don Juan will add a striking visual and aromatic accent to the garden. Red is the hummingbirds' favorite color, so expect lots of visits when you grow Don Juan.
New Dawn
If you are looking for a robust climber, New Dawn might suit your needs. Capable of growing to 15 feet, this rose blooms in pale pink flowers on very thorny canes. New Dawn can tolerate up to 4 hours of shade per day, so you may want to consider it for an area that receives late afternoon or early morning shade. Western North Carolina gardeners will find this rose to be a bit high maintenance, as it requires frequent deadheading to keep it in bloom. The first rose ever patented in the United States, New Dawn was voted the most popular rose in the world at the 11th World Convention of Rose Societies in 1997 (Zanthan).
Golden Showers
Golden Showers blooms in large, deep yellow flowers that fade to a lighter shade as they age. Although Golden Showers is considered an easy-care rose, it is prone to black spot, a fungal disease that can significantly weaken the plant. In western North Carolina, this disease is most likely to attack in the spring prior to the weather heating up in June. Keep the garden bed clear of leaves and other detritus and use caution when watering. Water on the foliage creates a perfect breeding ground for the fungus.