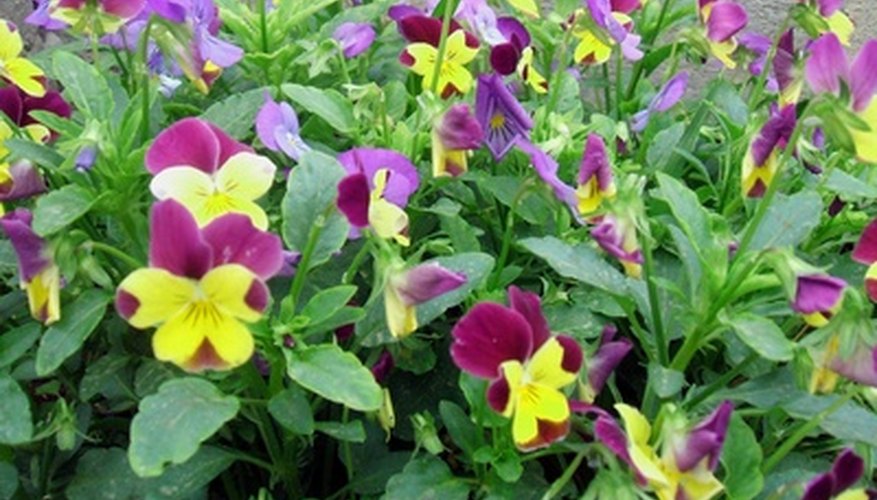 Flowers add color and beauty to many types of landscapes, yards and parks. One type of blossoming plant, Johnny-jump-ups, flowers in shades of purple, blue, pink, yellow and white. These attractive flowers look a lot like miniature pansies. Johnny-jump-ups reach a mature height of almost 6 inches. These small plants produce blossoms that resemble small, upturned faces. Annual varieties of Johnny-jump-ups flourish in containers or flower beds. This edible flower provides cooks with colorful and whimsical decorations in salads and desserts.
Plant your Johnny-jump-up seeds indoors two to three weeks before the last anticipated frost. Although these seeds usually germinate within a couple of weeks, indoor planting provides earlier blossoms in your landscape. Fill seed pots with potting soil. Place three or four small Johnny-jump-up seeds on the surface of the soil in each pot and cover with 1/16 inch of soil. Gently pat down the surface of the soil over the small seeds. Apply a fine mist of water over the soil with a spray bottle. Apply enough water to create a damp appearance on the surface of the soil. Cover your seeds with a layer of plastic wrap to minimize evaporation.
Set your Johnny-jump-ups in a sunny location to germinate and grow. Keep them slightly damp during germination. Remove the plastic wrap when the seedlings appear above the soil. Transplant your seedlings outdoors after the final frost in your area.
Plant these small seedlings in a sunny to partially shady location in your landscape. Place these flowers in an area that provides protection from strong winds and intense heat. Remove all weeds from your selected area. These small plants easily succumb to invasive weeds. Add some compost to your soil to ensure a rich, well-drained composition. These plants thrive in loamy, rich soils. Plant these seedlings close together to form an attractive carpet of colorful blossoms. Water your flowers after planting. Johnny-jump-ups, like many other varieties of violas, require about an inch of water every week.
Place some mulch around the stems and over the roots of your small flowers to hold in moisture and discourage new weeds. Mulch also keeps the soil cool during hot days.
Remove wilted and faded flowers from your mature Johnny-jump-ups. Encourage fresh blossoms by cutting off the spent ones with sharp pruning shears.